In the latest on the beef between Ja Rule and 50 Cent, Ja calls 50 a snitch.
The long-standing beef between 50 Cent and Ja Rule seems as if it will never come to an end. It allegedly began way, way back in 1999 and since then the pair have exchanged harsh words, the occasional punch and 50 even suffered a stab wound once. It seems Ja Rule can't help but lash out at 50 Cent whenever the opportunity presents itself, and their dispute that began in the streets now takes place via back-and-forth trolling on social media.
During 50 Cent's recent appearance on Power 105's The Breakfast Club, 50 Cent had some harsh things to say when questioned about "Billy" rapper Tekashi 6ix9ine. 50 Cent once welcomed Tekashi 6ix9ine back when he debuted on the rap scene, regarding him as his son, seeing qualities in the rapper that reminded him of himself. Tekashi is currently behind bars on racketeering charges and is cooperating with the feds in a plea deal that will see him being released from prison in a matter of weeks or years, instead of the 47 year-long sentence he could have received had he not agreed to testify against his Nine Trey Gangsta Blood gang members.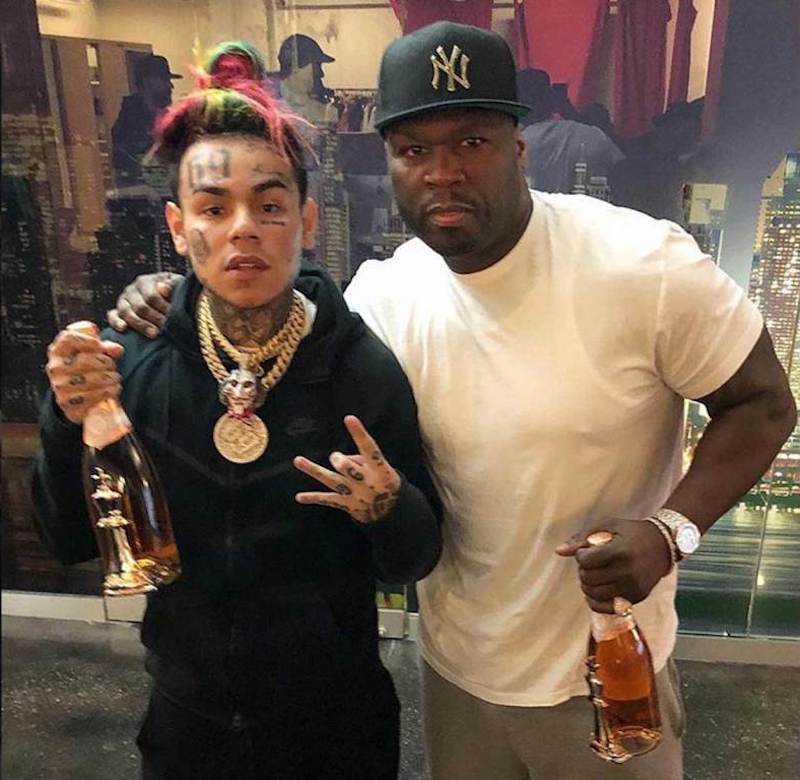 During the conversation with host, Charlamagne 50 stated that he hadn't spoken to the incarcerated rapper since he's been locked up. Charlamagne then asked 50 if he would pick up the phone if the rapper reached out to him, 50 replied with a quick "no." To which Charlamagne laughed and said "That was your son, Fif," 50 Cent then went on to elaborate that he has written Tekashi off. "Yeah I know, but he's his mother's child now. After you do sh*t like that, you your momma's child. Don't call me. Don't call me."
Host Charlamagne then posted the clip on Instagram with the caption, "Safe to say 5 won't be hitting 5 for 69 anytime soon. Full interview with @50cent on @breakfastclubam @youtube page now!!!!" Ja Rule decided that he could not pass up this perfect opportunity to take shots at 50 Cent. "Pot calling the kettle black," wrote Ja followed with a rat emoji.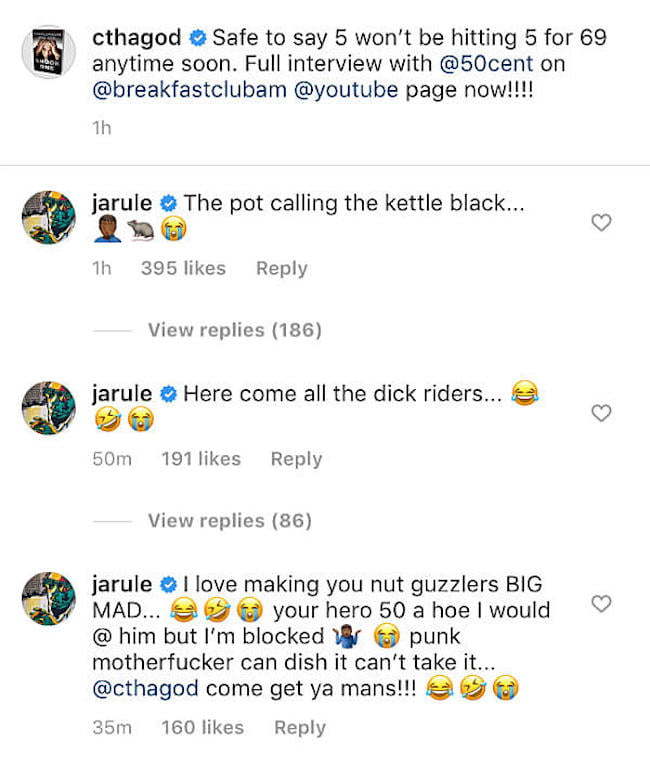 In anticipation for all the hate from 50's fans he added, "Here come all the d*ck riders." He followed that up by stating, "I love making you nut guzzlers BIG MAD… your hero 50 a h*e I would @ him but I'm blocked… punk mothaf**ka can dish it can't take it. @cthagod come get ya mans!!!"
Ja Rule's snitch comment goes hand in hand with a video he posted back in July of a rat getting a bath and a photo of Drug Enforcement Agency paperwork naming Curtis "50 Cent" Jackson as the anonymous caller who had apparently given police a tip about the Lodi Mack homicide.
One fan who shared Ja's sentiments wrote, "Fifty is a snitch too, so like father like son."
It seems that Ja Rule once again wants all the smoke. Fans everywhere are waiting to see if 50 will clapback or remain silent, which of course they plan to take as an admission of guilt.