French Montana has finally addressed what went down earlier this week when he exploded on his security.
It seems the scuffle took place between his friends and he was angry about having to break up the fight. A few days ago, a video showcasing the "Unforgettable" singer blowing up on his security guard went viral. Urban Islandz reported on the incident on Tuesday that a man wearing a red shirt attacked French Montana and missed, but landed a hit on one of his associates from behind which incited a brawl. Videos obtained by TMZ showed the rapper shouting at his bodyguards and at the time it was thought to have been because he was upset that the alleged assailant got the opportunity to come that close.
It was reported that Police were called to the scene, but no charges were filed, no one was seriously hurt and the alleged attacker fled the scene.
Footage showed French screaming, "Go over there n***a! Be security n***a!" towards his bodyguard. Then a man recording the incident from behind says, "Hire me son," to which the rapper turns around and smacks the phone out of the man's hand.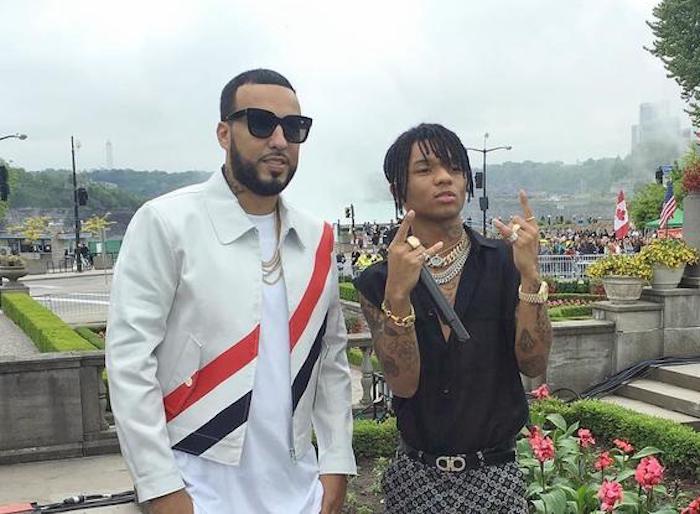 Fans of the rapper were desperate to find out what could possibly have led to this. During an interview with Power 105.1's Angie Martinez, French was asked about the incident and this was his response.
"We had went to the strip club, then after the strip club, on our way, we stopped to get some chopped cheese. My boys just started arguing, the next thing, I turn around, they started fighting. My security is in the car asleep. I don't blame him, though. But that's why I was yelling. I shouldn't be the one breaking up a fight. It was only us. It wasn't no outside people."
He went on to say, "I'm a gangsta rapper. That means sh*t gonna happen. Things just gonna happen. If I see two of my friends fighting, what you think, I'm not going to go break up the fight because I'm worried about what anybody thinks? They could end up stabbing each other, shooting each other… Two of my friends fighting, I had to break it up."
Since the release of the interview many fans have been commenting on him referring to himself as a "gangsta rapper". Majority of the comments do not support his statement and some even go as far as to state that a gangsta rapper should have no issues breaking up a fight between friends.