Foota Hype's negative comments last night about the sound of Barbadian Prime Minister Mia Mottley's voice, has not gone down well with some citizens of that Eastern Caribbean country and some Jamaicans have also taken exception to it.
The Dancehall selector and music producer, whose given name is Oneil Thomas, had commented on a video post shared by DJ Sparks on her Instagram page last night of the Barbadian Prime Minister issuing a bulletin to her fellow countrymen to take heed, ahead of the island's shutdown, and obey all warnings from the meteorological services relating to the imminent Tropical Storm Dorian, which is set to pass the island later tonight.
"Y she sound like a man that scary," Foota had commented under the post, which elicited a myriad of retorts, from commenters, several in agreement with him, while others ordered him to either pay attention to Mottley's message or mind his own business.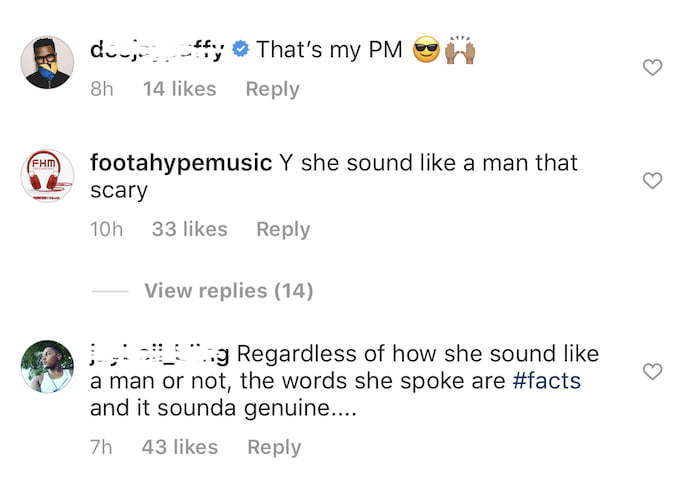 "She been sounding like that move on; everything unu tek up pon unu big bloodklaat head," jermz0 rebuked the Gully Creeper producer.
"Foota Hype, so bro the voice alone you hear and not the message?" jamaicanmedia_official asked the Calabar old boy.
Some, mainly females told the selector that he appeared to be obsessed with men.
"Foota Hype, man always on your mind," siafear said in sheer ridicule of the entertainer, while Barbadian wwanins warned him not to be disrespectful.
"Foota Hype, don't pass your place about my PM," wwanins said.
But in response Foota claimed that he was just making what he described as an important and truthful observation.
"Wwanins, it's the truth. I thought it was a voice over. U think I'm trying to diss her be funny? No I'm just being honest," he said.
But a-g.e.m insisted that Foota's comments were uncalled for, especially at a time when a fellow Caribbean country was facing a potential disaster. "Foota Hype, ur missing the point," he said.
Foota has always been a harsh critic of famous women who appear to be androgynous, oftentimes labelling them as gay. In one of his recent live posts on Instagram he spent more than an hour criticizing rising star dancehall artiste Koffee's mode of dress, claiming it makes the teenage sensation look gay.
His concerted efforts to put a negative focus on the "Toast" artiste did not go down well with many Jamaicans either, as some claimed he was hell bent on tearing down the "one bright spark in Dancehall".
On a YouTube repost of Foota's musings about Koffee, her fans ripped Foota to shreds, declaring that he has a "crab in a barrel mentality" and that the teenager ought to be protected from men like him. Others asked whether he expected Koffee to dress almost-naked like his babymother Ishawna.
"So you prefer she wears next to nothing and preach positivity? Crab in a barrel alien brain," Sergio Mark had said.
"Rubbish. Leave her alone. So you want to dress like some of the other dancehall women? Uno too farce. Leave her alone. If it was up to uno she would die of hunger. Koffee, you are doing well; you are doing a stellar performance around the world. DO NOT BOW to them. Do your own thing on your own terms."