Lil Wayne's daughter Reginae Carter has responded to Young Thug's claim that Weezy hates him.
Young Thug recently said during an interview with "Big Boy's Neighborhood" that he does not think Lil Wayne likes him because the Young Money rapper is used to getting his way from being around Birdman basically all his life.
Honestly, with all the Cash Money Records drama between Birdman and Lil Wayne over the past few years and the timing of Young Thug's ascension to fame, it's easy to think that Young Thug is right. There is a lot of history between the two rappers from their time as labelmates in Birdman's Cash Money camp. So perhaps Birdman deserves more blame than the artistes for any drama that ensued. The Cash Money Records founder withheld Lil Tunechi's work from his fans for years and strategically allowed Young Thug to take his space in the market.
However, daughter of the Young Money rapper, Reginae Carter has addressed the issue on Twitter, and apparently, she is amused by the thought of someone thinking her dad even cares enough to hate them.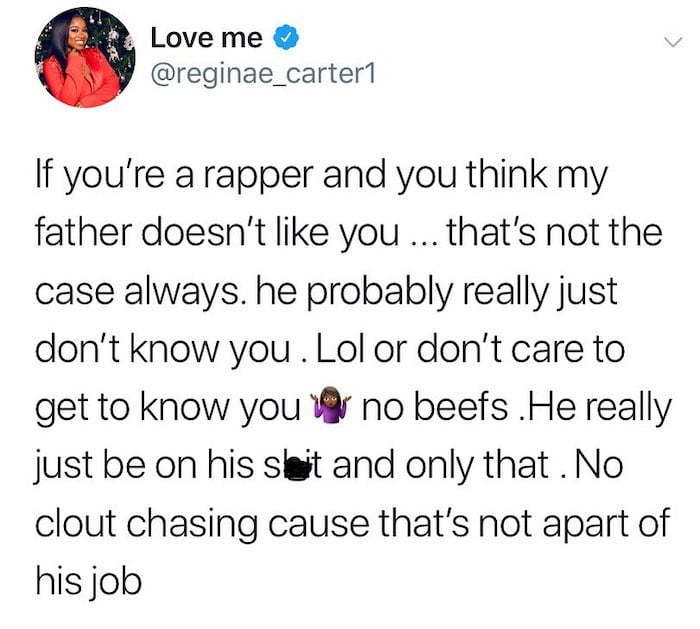 In a tweet that has since been deleted, Reginae said "If you're a rapper and you think my father doesn't like you … that's not the case always. He probably really just don't know you. Lol or don't care to get to know you no beefs. He really just be on his sh*t and only that. No clout chasing cause that's not apart of his job," she tweeted.
It is actually less surprising that Reginae dispelled these rumors and not Weezy himself because as she said, he is not one for clout chasing. We're sure Young Thug has his reasons for his opinion, but Lil Wayne assured us that he isn't a fan of beef back in 2007 in his track "Put Some Keys On That" when he raps, "I am a vegetarian, man, I only eat beats."