Nicki Minaj and Megan Thee Stallion are now besties.
It's a "Hot Girl Summer" for sure and two of the hottest females in the game, Nicki Minaj and Megan Thee Stallion, return to Instagram Live for part two of their linkup. The leader of the Barbie Gang credited her fans for teaching her how to connect with Meg on IG Live, which gave rise to their collaboration on "Hot Girl Summer." The track was released on Friday and quickly shot to No. 1 on the iTunes chart making it the first female rap song to debut at the top spot on the chart.
During their link on On Friday night on Live, Megan Thee Stallion reluctantly drives the boat for her new best friend while on set the music video. "She did a lot, so I am going to swallow my pride and drive the boat for her, I have to drive the boat for the Barbie" Meg said as Nicki shared her excitement with a bottle Myx Moscato in her hand.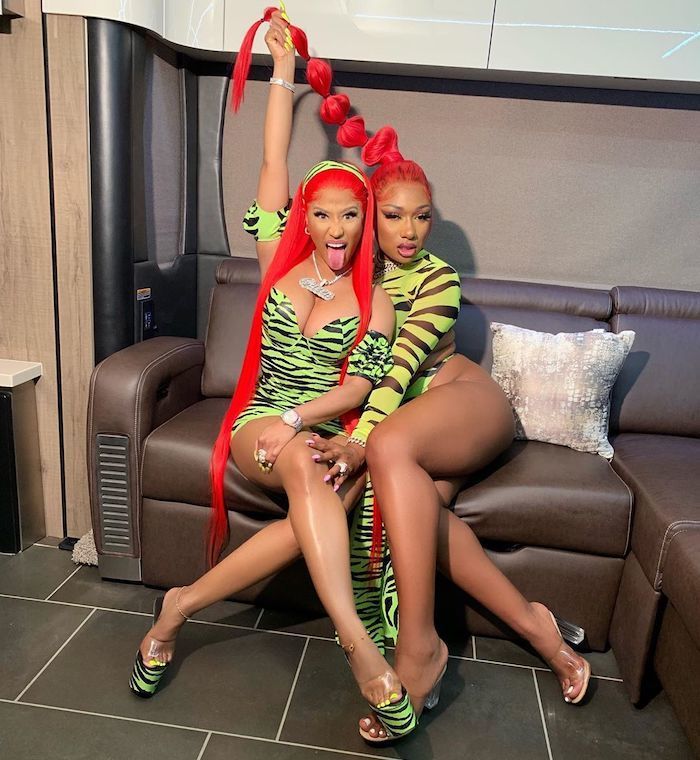 Nicki warned her that she is mixing liquor but then assured her that it's Moscato, so it's not going to hurt her baby.
Ty Dolla $ign, who provides the catchy hook for the track, also shared a video of himself getting pampered onset the "Hot Girl Summer" video shoot. There is no set date yet for when the video will be premiered, but judging from the massive popularity of the song, they might want to strike when the iron is piping hot. "HGS" marks the first collaboration between Nicki and Thee Stallion and is a good look for female rap in an era where the ladies in the game are going after each other necks. Meg even called Nicki the GOAT when they first appeared on Live.
Perhaps the two ladies can link up and drop an entire body of work. That would send a clear message that females are a force to be reckoned in hip hop.