Joe Budden is getting roasted to a crisp for suggesting that he is the third greatest rapper of all-time.
On the flip side of things, you can't blame Joe Budden for being his biggest cheerleader, but whoever wrote this list of "Top 50 Greatest Rapper Of All-Time" is either a troll or a genius. I said a troll because the positioning of the names doesn't make any sense and I said genius because we are all talking about it right now. The person that's getting the brunt of the backlash though is Budden, who shared the list on his Twitter in a since-deleted tweet.
"I ain't make that list but I ain't arguing against it lol," the Slaughterhouse rapper turn Podcaster wrote.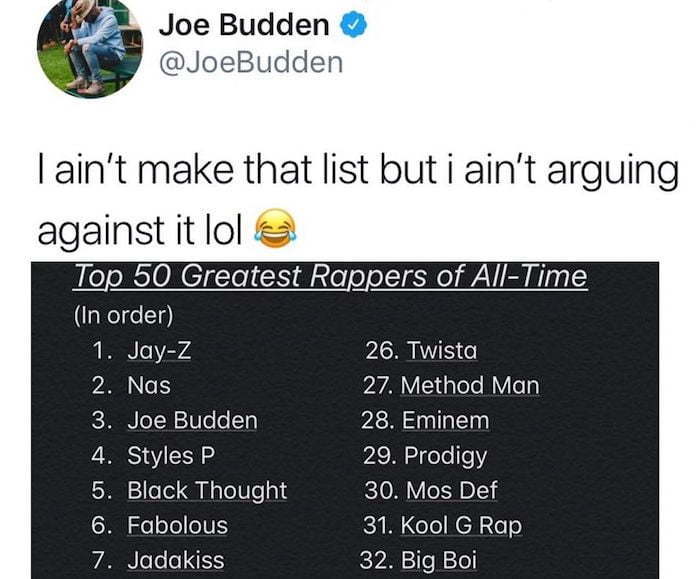 On the list, you have JAY-Z first and Nas second, which would make sense in a lot of hardcore hip hop fan minds. Then Joe Budden third, Styles P fourth, and Black Thought rounding out the top five. In the top ten, you will find names like Fabolous and Jadakiss with Kendrick Lamar being at number ten.
A lot of fans are sounding off as to why Eminem is at number 28 and Lil Wayne all the way at 37. Tupac is nowhere to be found on the list.
Budden has since added that "Any list without the Based God is a joke." The reactions on Twitter is both acceptable and hilarious. There is no list of Greatest Rappers of All-Time that would include Joe in the top ten.
Nah I know Joe ain't make this pic.twitter.com/IgTT1t6q5y

— MENACE II SOBRIETY (@CrookedIntriago) August 5, 2019
Greatest rapper of all time list
1. JayZ
2. Nas
3. Joe Budden
4. Styles p
5. Black Thought
6. Fabolous
7. Jadakiss

— MonsterAmongMen (@ParkTheBus8989) August 5, 2019
Joe budden third greatest rapper of all time?? Looool what kind of foolishness pic.twitter.com/SCzcnGQhXG

— Rohan (@Chops8592) August 5, 2019
Even hip hop pundits like Ebro Darden has since weighed in on the saga. "Joe Budden being someone's #3 should be allowed. … It is a phenomenal troll & also a great convo," Ebro said.
Joe Budden being someone's #3 should be allowed. … It is a phenomenal troll & also a great convo

— El Viejo Ebro (@oldmanebro) August 5, 2019
Joe Budden seeing himself at #3 knowing he can't publicly agree, but inside, no question, agrees with that list ??? pic.twitter.com/ogxyVZh34w

— Ced (@cedfunches) August 5, 2019
Joe Budden…..at 3??? pic.twitter.com/YPJlZYgvjg

— rivera ?? (@wpriv35) August 5, 2019