Drake drops more hints that his new album is coming, but says the WiFi in Pickering is slowing his progress, so he issued a PSA to the Mayor.
It is becoming more apparent that Drake never stops working. The Canadian rapper, who recently announced a new partnership with star athlete Lebron James, hinted at his impending new album when he shared a message to a local mayor on social media. Apparently, the WiFi in Pickering was really affecting the songwriter's progress; so much so that he had to reach out to the Mayor of the Toronto suburb.
"Can the Mayor of Pickering set up some stronger wifi towers so @boi1da can be able to send me all his newest beats? Trying to cook up. Thanks. – Drake," the rapper wrote on his Instagram story.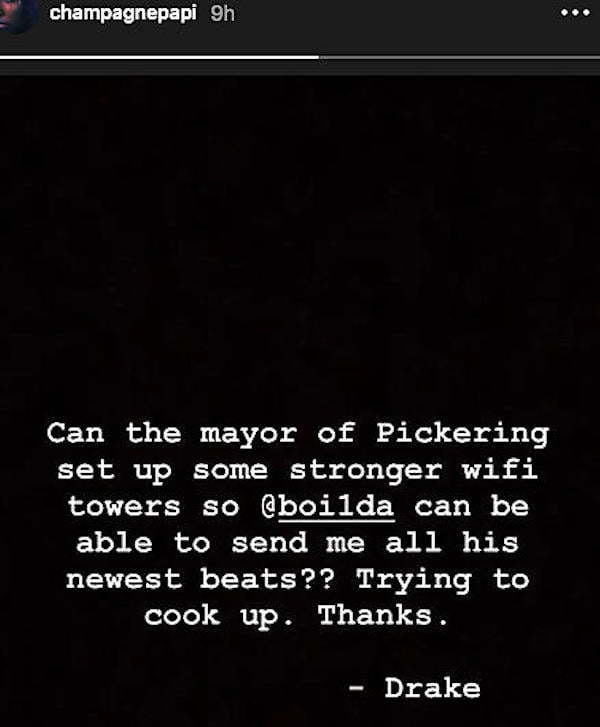 The last project we got from the OVO rapper was "Scorpion" in 2018 which spawned hits like "God's Plan" and "Nice For What."
Remember the NBA season right after the Toronto Raptors won the finals? That was when Drake reminded fans through social media that he's in "album mode." Drake has been stoking the fire of his impending project for some time- a fire that he started back in April when he told fans in London that he is working on an album. "This is one of my favorite places to be in the world," he said on stage at the O2 Arena. "I think what I'm going to do after this is go home and I' ma make a new album so I can come back to London next year and so we can do this again."
That was one of his final shows on his Assassination Vacation tour. Drizzy is definitely telling us to get ready which might mean it's coming soon, but it's possible he is actually dropping more hints than we think.
Producer Boi-lda is the same genius behind Rihanna's monster hit "Work" featuring Drake. So this is definitely hinting at a Dancehall vibe which isn't the least bit surprising. We all know that Jamaica is inscribed in the rapper's heart, and Boi-1da is of Jamaican heritage. Plus Drake seems only to have been getting closer to his 'brother' and International Dancehall artist, Popcaan this year. Who is more influential than a brother, if not a Jamaican?
I for one is guessing that there will be some more Jamaican patois and dancehall beats for Drizzy's new album. Let's see if the rapper will spill more details any time soon.