Meek Mill is taking Dream Chasers to the next level with the help of Jay-Z.
The two hip-hop moguls launched Dream Chasers Records Tuesday morning at the Roc Nation headquarters in New York with a bottle of champagne to celebrate, according to AP News. Meek Mill will act as the president of the new label that was born in a joint venture with Jay-Z's Roc Nation.
"Of course I had offers to do a lot of business with other people, but the relationship we've built from (Roc Nation) believing in me through my whole career, through my ups and downs and the morals they showed to me and my team when it wasn't in their best interest to have showed it — I feel comfortable going through this right here at home," Meek said. "We're ready to work. We're just starting the beginning of a new chapter, a new page."
Meek Mill signed with Roc Nation management back in 2012, and he and Jay-Z's relationship has sprouted ever since. Hov was an active advocate for Meek's release from prison in 2018 after he was locked up for months on a parole violation. The two also launched the REFORM alliance in April, an organization that strives to reduce the number of people serving unjust parole and probation sentences.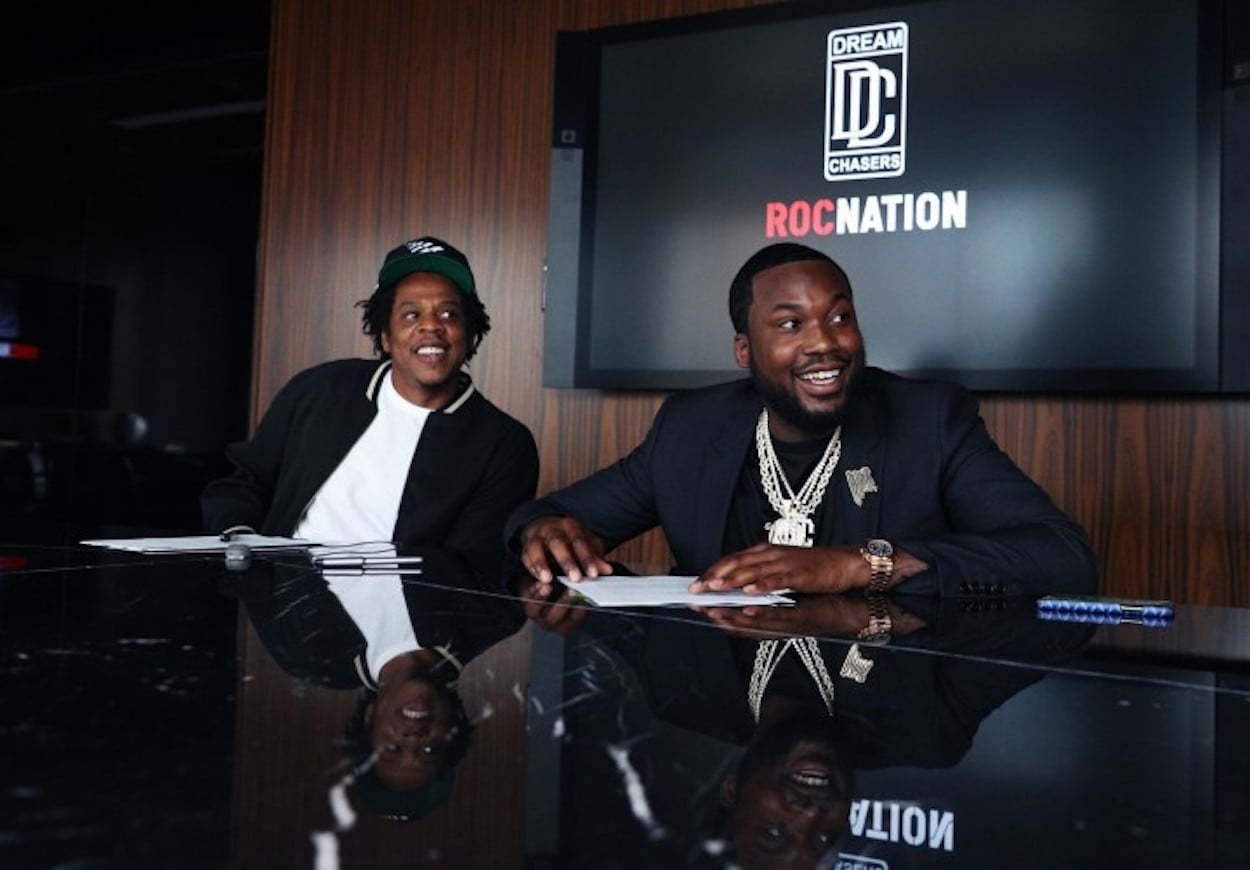 The Dream Chasers Record label is just another notch in the Philly rapper's new business-minded belt. At the end of June, Meek became an official co-owner for Lids Hats. Jay-Z said he recognizes meeks maturity and sense of responsibility in making the decision to get behind the new venture.
"His integrity, his honesty, his sense of responsibility," Jay-Z said during the contract signing Tuesday. "Everything that he's done leading up to this point, it showed that he can carry that weight for the next generation of people. Everybody can sign some artists, make some money and brag about how hot they are for … (but) for us, we look at the big picture. For us, it's way beyond signing hot artists and having a hot record."
It will be interesting to see who Meek chooses to sign first, as many fans started wondering after the announcement if he would give a deal to DJ TrackAddict, the producer that he recruited after his beat went viral on Twitter last week.
Send me links if you're ???

@ me and @DreamChasers pic.twitter.com/2YKZvtjm8Y

— Meek Mill (@MeekMill) July 24, 2019
WATCH: Rapper @MeekMill & Jay-Z open up about why they think it's important to establish a legacy as entrepreneurs for the next generation of artists & their shared backgrounds.

They teamed up to launch Mill's new record label #DreamChasers w/ @RocNation: https://t.co/EL2vzRlRjt pic.twitter.com/GDEDxmCEgA

— CBS This Morning (@CBSThisMorning) July 24, 2019