Meek Mill and Boosie Badazz are just like the rest of us who cried like babies after watching The Lion King.
The live-action version of the iconic 1996 animated film is set to hit theaters this week. Lil Boosie is recalling how watching the move back in the day made him cry, and he is planning to cry again when he watched the new movie in theaters with his kids this weekend. Meek Mill also chimed in saying that he too gets emotional about the film.
Boosie Badazz shared a video on the Gram of himself telling his fans how he cried uncontrollably when Scar killed Mufasa. "N***as actin' like they all gangstas," he said. "N***a, if you watched Lion King as a child, you shed tears… 'cause that b**ch made me cry."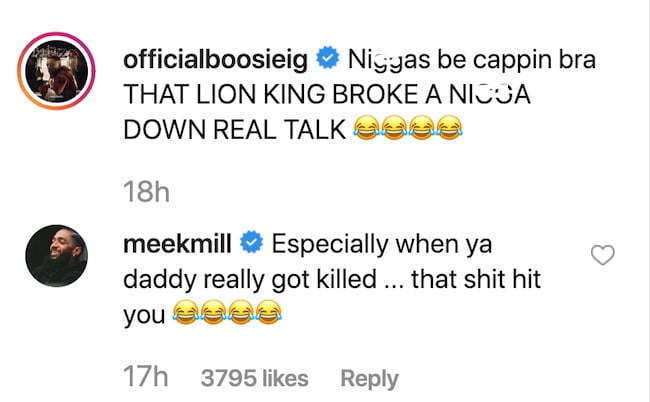 He also confirmed his statement in the caption. Surprisingly, Meek Mill left a comment on the post saying that scene with Scar and Mufasa also made him shed some tears. "Especially when ya daddy really got killed … that sh*t hit you," the Philly rapper wrote with some laughing crying emojis.
Perhaps Meek Mill and Boosie need to planned a link-up this weekend and watch The Lion King together with their kids and see who first cry. Then they can both hit the studio and record some new music.