A video clip of Spice and Dexta Daps steamy performance in New York this week went viral.
An erotic video of Dancehall temptress Spice slow-wining on Dexta Daps has now triggered a barrage of calls by fans for a musical collaboration between the two artists. In the video which was posted by both artists on Instagram, a shirtless Dexta, looking his usually sultry self, was in the process of singing when Spice clad in a white bodysuit and a pink wig, sauntered up to him. She proceeded to caress his face and then his chest, her antics evoking wild cheers from the delighted onlookers.
Obviously enjoying themselves the two began to gyrate on each other to the sound of Dexta's "Weak To You" song, for about a minute, before Spice strutted off smiling from ear to ear, while her compatriot Dexta, burst out in laughter.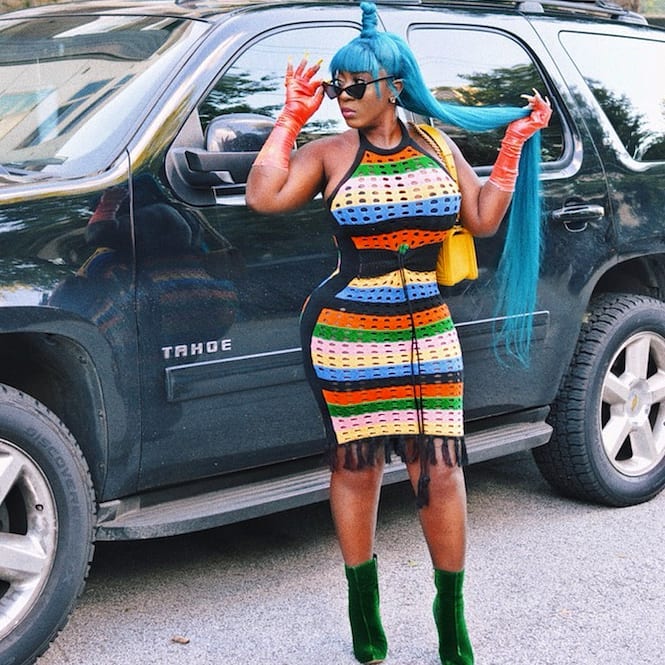 "I'm pregnant," Spice wrote beneath Dexta's video post in which he referred to her as the 'Jamaican Beyonce.'
Any collaboration between the two is bound to be epic. Calls for the collaboration between the two fell like rain. One of the 225,000 viewers who watched Dexta's post, triple_jay wrote: "Am I the only one waiting for a Spice and Dexta collab?
Spice's post racked up close to half-a-million views and almost 6,000 comments in the space of eight hours even eliciting comments from the Unruly Boss himself, Popcaan.
"Trouble…you frighten…" Poppy wrote. Other comments, ike mocha_mami19, were rather raunchy. "The wul Jamaica soon breed ya now,' she wrote while themacheteman scribed: "Spice just mash up di man life wid one whine…man soul leff him body."
"Me did know say a problem when put 2 a unu pan one show enuh. Unu slack bad but me love unu," theloveabledarkskinbarbie posed in response to the video.