Is Vybz Kartel the greatest Jamaican to ever take up the pen?
Jamaica's exceptional literary talent is profound, especially considering the size and population of the country relative to others. Due to the country's strong cultural background, the writing that escapes the pen of our scholars tend to depict Jamaican life, joy, and struggle. We have esteemed writers like Claude Mckay, Roger Mais, and Louise Bennett Coverly, among others. Which is why I am sure not everyone might agree, but I firmly believe Vybz Kartel is the greatest writer this country has ever produced.
Influence: Never before in the history of the country has a writer been more influential and celebrated. Vybz Kartel work is researched and discussed on street corners, barber shops, and even in corporate offices across the world. Whether it be his book or one of his many hit songs; is instructions seem to be law and his way of life (Gaza) seem to be the ruling political party within the country, with die-hard supporters. His primary industry (the music industry) has been totally dominated by Kartel from 2007 to present.
After releasing his "Teacher is Back" album, the dancehall deejay embarked on a lyrical battle with his arch-rival Mavado, which sparked the infamous Gully/Gaza feud, one of the greatest rivalries dancehall has ever seen. The lyrical feud ended up with both artists being invited to Jamaica House where the Prime Minister asked them to call a truce publicly. By then the feud had started causing violence in schools and communities across the island. Not before clashing at the famous dancehall show Sting, an event that gripped the nation and fans across the globe. Both artists quelled the feud a short time after.
As a dancehall artiste, it is unpopular to attend university, but when you're invited to lecture at the top university in the Caribbean (University of the West Indies Mona), without ever being enrolled at any prior university, you must be doing a whole lot of things right. He gave a rousing speech and then answered some tough questions from the massive audience on the campus grounds with aplomb and eloquence surprising many who may have doubted the intelligence and skill of the "World Boss." That was the moment he was truly cemented for me as not only a musical great but also one of Jamaica's intellectual greats, a high school drop out at that.
Literary Works (outside of music): His book "Voice of the Jamaican Ghetto" (Incarcerated But Not Silenced) is now a recommended book wherever on the island you are. His book got more young people into reading from the first grade, as they were curious what their hero would produce when putting his pen to a book. He did not disappoint in a book where he described the socio-economic landscape and what us Jamaicans should do to ameliorate and change our circumstances. He started this piece saying "I start this morning the way I start each day if my life, with a thank you Jah for giving me, Adijah Palmer, the inspiration to be Vybz Kartel." Kartel "the bleacher" to some due to his skin lightning can be seen posing on the cover mirroring the great Malcolm X, how ironic. His book is a Jamaican Classic and has been placed in Harvard's esteemed library. How many Jamaican writers can boast that achievement?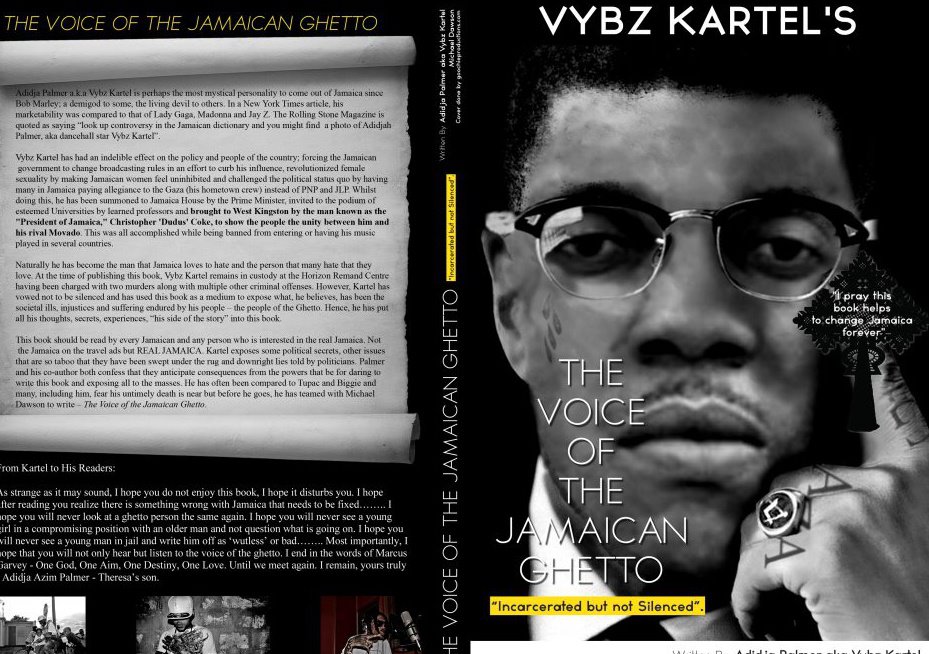 Song Writing: Vybz Kartel has penned over a thousand songs in his career which has seen him propelled to "King of the Dancehall status." Hit songs like "Rompin Shop," "Clarks" (1,2,3), "Fever," "Summertime," "New Millennium," "Mhmmmnn," "Under Wata," and "The Lyricist" just to name a few of the hundreds.
His talent in music really doesn't need much introduction. His style sees literary devices being thrown in as the main ingredient to the soup with a little melody for good measure. As a kid I remember hearing the song "Picture Dis" for the first time, I wondered who this guy was, painting such a vivid picture (while turning the CD player to a level my mom couldn't possibly hear a word). He also penned songs for other artistes primarily the females in his Gaza camp (Vanessa Bling and Sheba) and last but not least even the "Mighty Bounty Killer" his musical dad.
Vybz Kartel also co-wrote on Beyonce's smash hit "Run the World (Girls)." Co-writing for Beyonce is a great achievement in itself but co-writing on arguably one of her biggest hits of all time is something special. So not only are his works being heard and seen in Jamaica his international appeal is also top draw. Getting a thumbs up from musical icon Mick Jagger who said Kartel was in his top two lyricists of all time. The top 2 was rounded out by none other than Billionaire Rapper JAY-Z, such illustrious company.
His dominance of Jamaican Music over the years has seen many labeling him the "King of the Dancehall."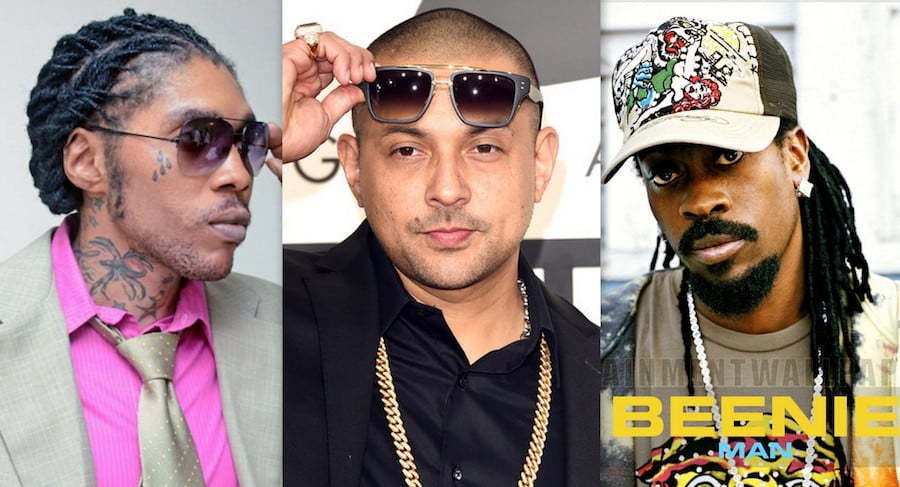 Coincidentally, that was the name of his last album which indicates the artiste also considers himself to be the greatest artiste to exist in the dancehall space. This topic, as you would expect, is widely argued since names like Beenie Man and King Yellow Man also occupy that conversation. Luckily his claim to the throne is not essential to this argument as the title "King of the Dancehall" doesn't even have to go to the best writer in the genre. Is he dancehall's best lyricist ever? Definitely, in my opinion, possessing multiple verses which distort the mind. His tools being similes, metaphors, double entendres, puns, paradoxes, and excellent descriptive writing. His unique ability to connect reality to the figurative is what makes him irreplaceable at the moment. It's as if his songs are "Pied Piper" and dancehall fans are the rats that were lead into the sea.
All that aside, one must realize that writing is not only limited to books that can be bought from a store. It is very much the fabric of music so one must always acknowledge artists who write their music as a writer like they would James Patterson. An album could be referred to as a book based on the volume of writing present in the final product. Songs are comparable to audiobooks where you are hearing words once written now vocalized. So why aren't artistes being classified as writers? I will go out on a limb and say it's because in our society never before have we seen an artiste's writing up to the standard of our novelists, poets, historians, and politicians. That's why it is so hard to digest for some because the first artiste to be even remotely considered in that light, has a firm argument to be the best writer ever. It takes some getting used to, but if the impact of ones writing is taken into consideration as well as the longevity of the impact he has to be in the conversation. If the notoriety of ones writing is also taken into consideration, he would also be in the conversation. How many Jamaicans do you think can recite a chapter of Trevor Rhones "Smile Orange" off the top of their heads?
Then ask how many Jamaicans can recite Kartel Lyrics across all age groups?
No disrespect to Trevor Rhone a great Jamaican, it just goes to show that Kartel belongs in the elite group of Jamaica's greatest ever writers and I for one thinks he is in the number one spot.
Not much more needs to be said to improve the Incarcerated Deejay's case for the title of Jamaica's number one writer of all time. From billboard hits to having his book in Harvard's library and taking into consideration his influence over the broad age group 5-45 at present in Jamaica. He also shows no sign of slowing down still releasing hits like "Any Weather and Beat Dem Bad," and I wouldn't rule out another book.
The award for Jamaica's number 1 writer of all time goes to none other than, Vybz Kartel.