Erica Mena says she doesn't listen to Nicki Minaj music because she bites Lil Kim so much.
The Love and Hip Hop star sat down with her fiance Safaree Samuels for an interview with Nessa. Erica Mena was asked if she listens to Nicki Minaj music and her response drew criticism from the Queen rapper's overzealous fans on social media. "Erica do you listen to Nicki's music or do you not listen to it?" Nessa asked.
"That's a real question right there," Safaree responded saying. Nessa then continues, "Because I feel like Safaree is at a good place where he doesn't care music is music as a musician. I feel like musicians have a different aura and never trip when it's good music is good music. Have you made a conscious effort or you just like 'oh it's cool' you don't think of it."
"Honestly I grew up on Lil Kim so heavy that when that came out I was like 'ah she is biting my girl' and it was just what it was," Erica responded. Nessa then chimed in suggesting that Nicki is still great. "I've never been drawn to it, I just feel like it was just always cartoon stuff," Erica continues.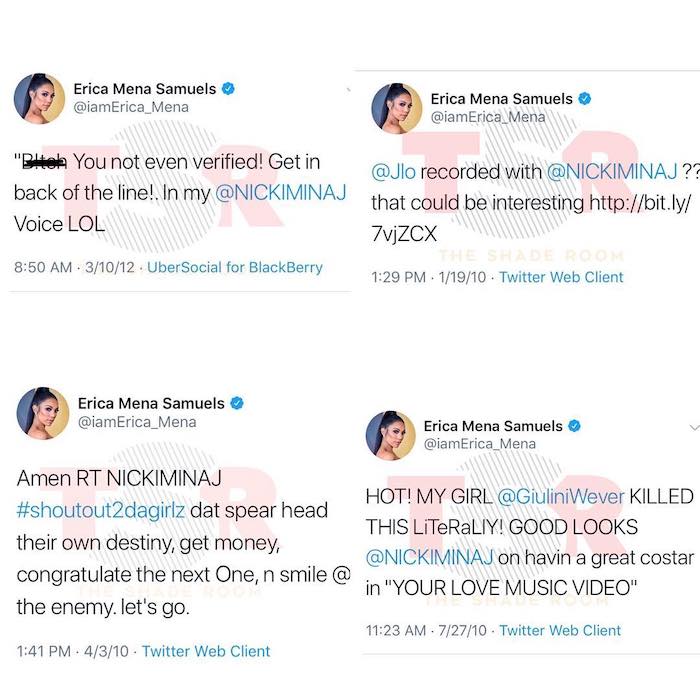 Nicki Minaj fans have been bombarding her comments with hate mail, and Erica Mena responded by posting a photo of Remy Ma holding a gun. "This was extremely lame of u. Nicki don't know u even exist," one fan wrote while another added, "Y'all Nicki Minaj fans are weird as f*** lol, Mena wins on this one cause all she had to do was post one pic of a true legend and y'all come foaming at the mouth."
Some fans even drew for some old receipts of Erica Mena mentioning Nicki Minaj on Twitter. This whole saga is turning into one big hot mess.