Shenseea says her hard work is what earned her a Rolex watch gift from producer Rvssian.
The "Shenyeng Anthem" deejay has stepped forward to address rumors that she gave up the goods to Rvssian for a Rolex watch. Shenseea posted a video on her Instagram showcasing the iced out Rolex. "Si weh hard work do!? me BLESSED and too GRATEFUL fi roll vex, now me a get rolex and big cheques thanks @rvssian," she wrote.
Some dancehall fans started accusing her of having sex with Rvssian and cheating on her rumored boyfriend, Romeich Major. "Shenseea start f*** man fi Rolex now? I can see the expression on Romeich face lol," one fan wrote.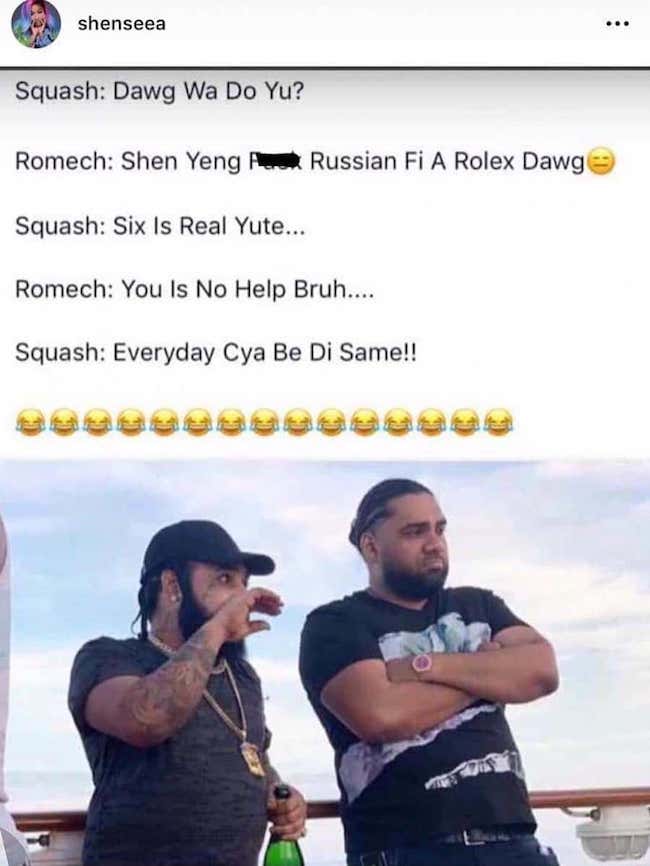 Shenseea later posted a meme responding to her critics. "How SAD is this? ONLY JAMAICANS feel ya fi f*** fi reach somewhere ina life," she wrote. "Y'all always tryna put successful women down.. That's why God na stop bless me he knows I'm passionate about my music and work hard wid a clean heart. Rolex a bun unu? Just wait fi see wa come next."
Sources told Urban Islandz that Rvssian gave Shenseea the expensive watch as a gift for being a good friend and collaborator. We're told that the producer and the female deejay have been friends from the beginning of her career and he has been like a mentor to her on her rise in dancehall.