Soldier Kidd says he is unfairly targeted and now he is getting dragged into YNW Melly's murder case.
After being falsely accused of killing XXXTentacion last year, Soldier Kidd found himself in the middle of an investigation into the killing of two of YNW's gang members. YNW Melly and another of his crew members are currently behind bars facing double murder charges, but it appears that Soldier Kidd somehow found his way back on police radar because of the case.
Kidd released a video explaining to his fans that he has nothing to do with the case and also shared a police document where he was listed as suspect number three. "the world is a really f***ed up place bro," Kidd said. "Somehow some way they found a way to mix me up into the little X sh*t and created all these allegations that am the one who killed him."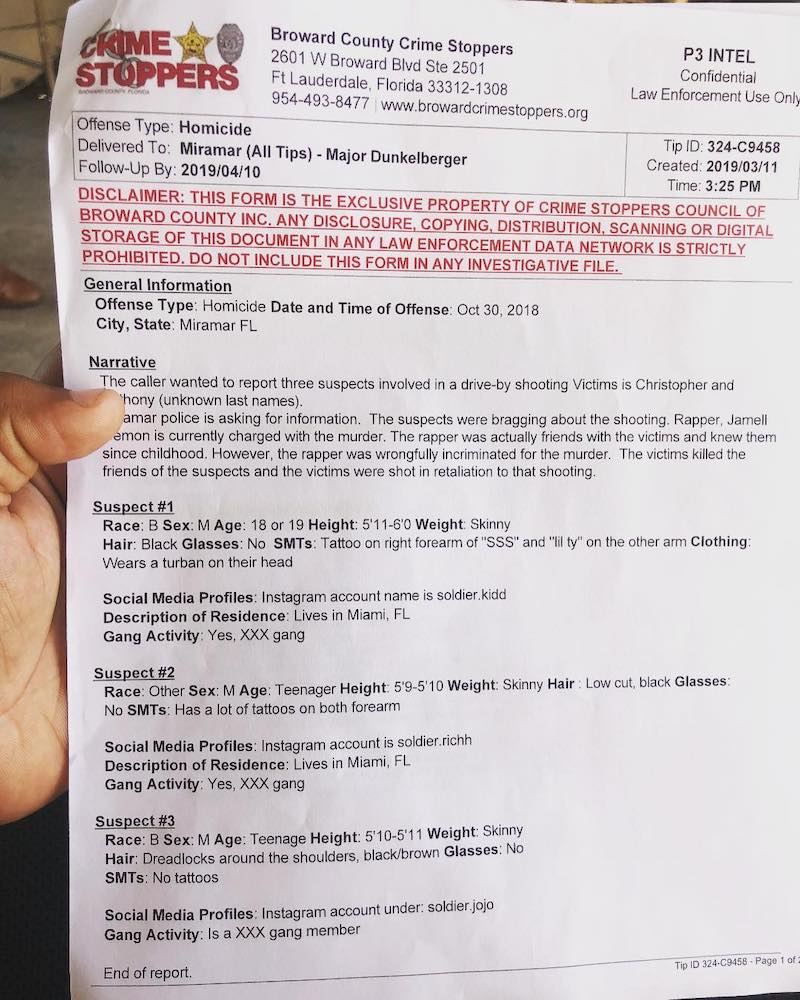 Soldier Kidd says folks leaked his mother's phone number and address and harassed her over the XXXTentacion incident. "Now they are trying to drag my mama into another situation talking about how I got something to do with the Melly case bro," the rapper added. "Saying I got something to do with the drive-by shooting and the whole sh*t. How is it that you people keep finding a way to mix me into these allegations bro?"
Last year summer, Soldier Kidd says the XXXtentacion case ruined his rap career. Four men are currently behind bars for the late rapper's murder, and they're all facing life in prison if convicted.
Soldier Kidd now has another serious allegation to deal with and only time will tell if he gets arrested or removed from the case as a suspect. Miramar police are still investigating the murder, but they have their two main suspects behind bars. YNW Melly and his associate told cops that they were involved in a drive-by shooting on the night that their two friends were shot and killed.