YNW Melly breakout hit "Murder On My Mind" is now certified platinum.
The incarcerated rapper saw his song "Murder On My Mind" ballooned in popularity over the past few weeks following his arrest in Miramar, FL last month. The Recording Industry Association of America (RIAA) has officially certified the single platinum, meaning it sold over a million copies in the United States. The single also slipped a few points this week down to No. 17 on Billboard Hot 100 singles chart, down from a peak position of No. 14 last week.
While he is behind bars facing a double murder charge, YNW Melly is enjoying some success on the music front. According to Miramar authorities, Melly, real name Jamell Maurice Demons, and another of his associates, Cortlen Henry, shot and killed two of their friends, Anthony Williams, and Christopher Thomas Jr., the morning of October 26, 2018. The two men drove their bodies around in his car before dropping them off at a hospital.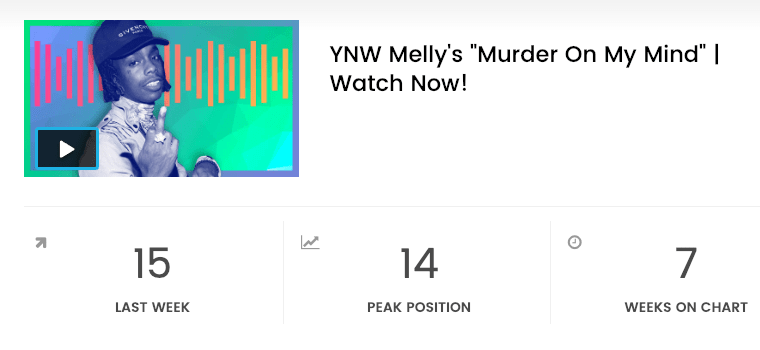 The two men told police officers that their friends were killed in a drive-by shooting that took place moments after they left a studio and was about to pull on the freeway. Following an investigation, Demons and Henry were arrested and charged for the murders.
YNW Melly seemingly raps about killing his friends in the song "Murder On My Mind" which may have helped in its growing popularity.
"I didn't even mean to shoot 'em, he just caught me by surprise / I reloaded my pistol, cocked it back, and shot him twice / His body dropped down to the floor and he had teardrops in his eyes / He grabbed me by my hands and said he was afraid to die / I told 'em it's too late my friend, its time to say "Goodbye" / And he died inside my arms, blood all on my shirt," YNW Melly raps.