Vybz Kartel got into a heated feud with some of his fans for proclaiming his love for Michael Jackson.
Last week, Vybz Kartel and Bounty Killer went on the record with their support for Michael Jackson amidst the "Leaving Neverland" documentary fallout. While he has been getting some push backs from some dancehall fans, now his own fans are questioning his stance on the pop star in light of the mounting sexual assault allegations. Additionally, his expression of love for Jackson caught some fans by surprise.
"I love michael jackson down to the ground him walk pon. and i dont apologise for it #ForeverMichaelJackson me, Adidja Palmer aka "cakesoap jackson" aka 'Worlboss' aka 'worlgreat" aka "vybzkartel" says that," Vybz Kartel wrote in the description of an old video of Michael Jackson doing an interview.
"Only God can come and tell me Kartel write that caption," one fan wrote while Kartel clap back saying, "Why? cause you f*** man?"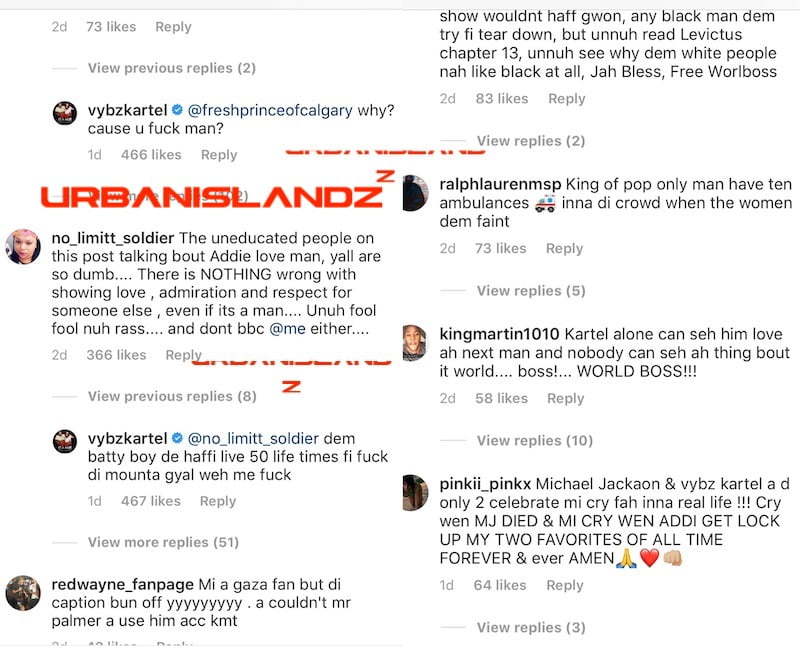 "Me a gaza fan but this caption bun off yyyyy, a couldn't Mr. Palmer a use him account kiss my teeth," another fan wrote. Kartel responded to that comment saying, "Them boy a hide an s**k hood don't pay him no mind."
Despite the push back from some of his fans, Vybz Kartel's loyal fans are supporting his stance on Michael Jackson. "Kartel alone can say him love a next man and nobody can say a thing about it world boss," one fan said.
"Am I the only one not thinking that Vybz didn't even mean it in a homo way and just expressed his genuine admiration for MJ, some of these comments still!"