Teyana Taylor has stepped forward to address rumors that her husband Iman Shumpert fathered a love child.
Last week we saw Teyana Taylor wiping her Instagram account clean and went radio silent. It didn't take long for rumors to start circulating claiming that she is heading for a divorce after her husband Iman Shumpert got another woman pregnant whom the two had a threesome with. That was some serious enough allegation for her to break her Instagram fast to address the rumors.
Some additional reports are circulating claiming that the R&B singer beat up the female which she also addressed. "I've never seen/touch that girl in my life," she wrote. "It's really sad that lies are entertained so much than the truth. Iman is not dumb he know I'd kill him."
Teyana also blamed her label Def Jam for her decision to went dark on Instagram. "My page is gone because I'm upset at Def Jam for not dropping my damn "WTP" video on time, per usual," she wrote.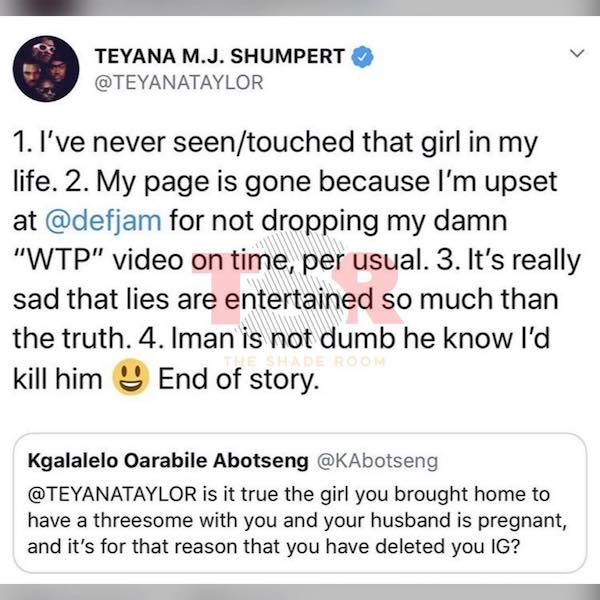 It sounds like a lot is going on behind the scenes in the R&B singer's world. Last year we saw her rant about not being satisfied with her last album and vowed that she would shake things up. Last year, Teyana Taylor defended her decision to have threesomes with Iman Shumpert after some fans backlash.
"Let what be a lesson petunia!?" she told one fan on Twitter. "I'm not losing any sleep at night over UR opinion. Just because I, ME I repeat ME enjoy bussing b*tches down from time to time w/ MY HUSBAND, doesn't mean I don't respect 'self.' So, u should go and enjoy your wack a*s sex life & stay out of mine."
The couple has a reality TV show on VH1 called Teyana & Iman with the first episode hearing in March last year.