Vybz Kartel is one of the all-time greats in dancehall music but is he greater than Lil Wayne and 50 Cent.
Vybz Kartel has cemented his place in dancehall as one of the greatest of all time, and some fans may argue that he is the greatest ever to take up the mic. While we debate that, let's also remember we have Sean Paul, Beenie Man, Shaggy, Bounty Killer, Shabba Ranks, Mavado, and the list goes on. Nevertheless, Kartel achievements in dancehall are impressive. He managed to stay more relevant than the vast majority of active artists in the genre despite being behind bars for the past seven years.
Vybz Kartel posted a throwback video of one of his old stage show performances on Instagram this week, and one of his hardened fans wrote a comment that grabbed his attention. "[Vybz Kartel] dem time yah me a tell the world say you better than Lil Wayne and 50 Cent #Timeless," Jason wrote.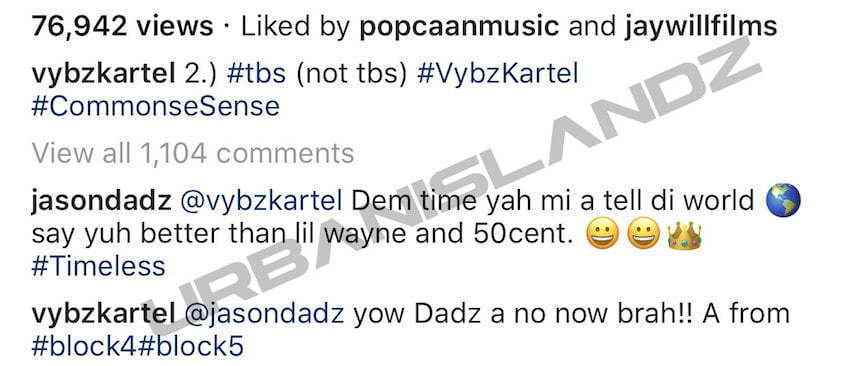 Kartel replied to the comment saying, [Jason] you dads a no now brah!! A from block 4 and block 5." Clearly, the Worl'Boss is in full agreement with his fan that he is better than both Lil Wayne and 50 Cent, who are two of the most commercially successful rappers in the history of hip-hop.
The bold statement sparked a debate among dancehall fans as to whether or not Vybz Kartel is better than Weezy and Fiddy. Lyrically, Vybz Kartel is currently in the upper echelon of dancehall, and Lil Wayne is in the upper echelon of hip-hop. Weezy even labeled himself as the greatest rapper alive, a moniker that sticks with him over the years. JAY-Z once referred to Kartel as the Eminem of dancehall.
In related Vybz Kartel news, the incarcerated deejay is currently working on his new album Exiled Pharoah, due sometime soon. Do you think it will be greater than Tha Carter V?