Quavo is about to get "c**ks*cker of the day" from Nicki Minaj.
Quavo Huncho album is now out, and we have all of 19 tracks to unpack and let y'all know what's going on, particularly with "Huncho Dreams." Overall the album is fire, but too long for sure. Maybe twelve tracks would've done the trick because a lot of fans are complaining about the length of the project. Huncho is a harder worker, so perhaps he is just offloading some of the music he got on his hard drive.
The biggest takeaway from the album so far is Quavo rapping about nailing Nicki Minaj on "Huncho Dreams." Some folks are saying that the Migos rapper snapped on Nicki, while her Barbz are questioning the motive and wondering if they should give him the smoke.
"She said I hurt her feelings 52 times (Two) / Call up queen (Nicki) / The queen can't flex on a young bull (Flex) / Made her scream (Scream) / Chanel, I bought her two of 'em / You can check IG (Hey, IG) / 'Cause when she post, it go up (Go) / Is she for keeps? (For keeps)," Quavo raps.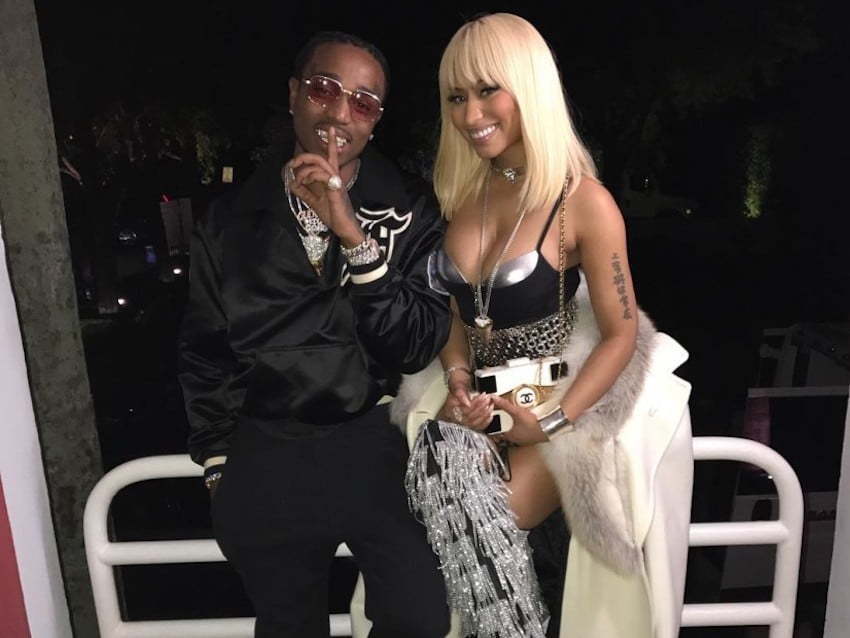 Earlier this year, Nicki Minaj shows off an expensive Chanel purse that someone bought her. She didn't reveal the name of the mystery man that bought her the purse, but now it's all out in the open after Quavo said he was the one who dropped thousands of dollars on the purse for Chun-Li.
Next up, Nicki Minaj revealed in a previous interview with Zane Lowe on Apple Music's Beats 1 that Quavo hurt her feelings when he didn't defend her during the "MotorSport" controversy. The Migos rapper also references Nicki's ex-boyfriend Safaree Samuels and also used the phrase "Young Bull" which another one of her ex-boyfriends, Meek Mill, used quite frequently.
Quavo is almost certainly going to get that "c**ks*cker of the day" award on the next episode of Queen Radio.
Quavo dropped a whole song about smashing Nicki Minaj…#Yikes pic.twitter.com/Q6ilcdZq0N

— Morgan Sherm (@morganLOOKS) October 12, 2018
Quavo rapping about smashing Nicki Minaj on "Huncho Dreams"? ????? pic.twitter.com/hEWTdXfnmJ

— NUFF (@nuffsaidny) October 12, 2018
Quavo responsed to Nicki Minaj's "Barbie Dreams" by dropping HUNCHO DREAMS where he name drops Nicki Minaj, Iggy Azealia and Safaree pic.twitter.com/DLTRzLQFFy

— Nicki Minaj Reports (@NickiMReports) October 12, 2018
Damn Nicki Minaj let Quavo smash? I guess Remy Ma was right in Shether when she said, Nicki F*cked the whole empire who you trying to be cookie

— King Ali (@KingRemyMa) October 12, 2018
Lord knows I love Nicki Minaj but she gotta make better decisions. After all the hard work she's put in these last 10 years, we got whack rappers like Quavo & the blind mice , & stripper hoes feeling confident enough to disrespect her after blessing them with a collab

— Kayla Got The 411 (@kaylagothe411) October 12, 2018
https://twitter.com/groovyhokage/status/1050565934082068485