Spice deleted all her photos and videos from her Instagram account amidst a rumored rift with Shenseea over Vybz Kartel.
Spice has been very active on Instagram and has now over 1.5 million followers making her the dancehall artist with the most followers. But over the past couple of days, you will notice that her post count says zero because she wiped clean all her posts and went radio silent. One of the last posts that she made on the Gram was to promote an upcoming song and music video between herself and Vybz Kartel.
Urban Islandz previously reported that the Spice and Shenseea beef rumor is a fake narrative created by some fans to stir up controversies between the two leading females in dancehall. Nevertheless, some folks are still running with the idea that there is a falling out between the two ladies, which is not the case, we're told.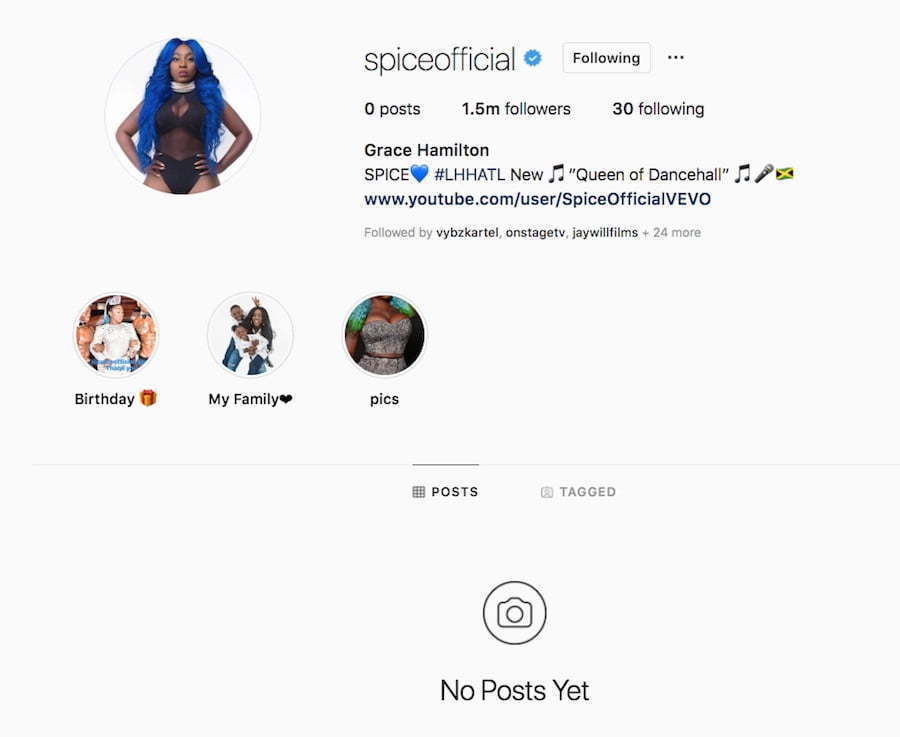 As for Vybz Kartel, his new collaboration with Shenseea has been in the works for quite some time now, sources told Urban Islandz. The incarcerated deejay is also a close friend and frequent collaborator of Spice, so their friendship goes way back to the point that some folks think that they were an item. The "Sheets" deejay also addressed that last week.
Regarding Spice reasons for disappearing from the Gram, we don't have the answer to that question. We're also told that she also stops accepting bookings for the rest of the year. It could just mean that Spice, who is one of the hardest workers in dancehall, is just taking some time off to spend on herself and her kids. I am sure she has a valid reason to go ghost on social media.
Urban Islandz reached out to her team for some answers, but at the time of this publication, we didn't get a response.