Vybz Kartel got time over the weekend, just call him the clap back king.
Vybz Kartel may be in prison, but it's almost like he is still in the streets, well that's how it is in Jamaica's prison system. The Gaza boss has been very active on Instagram over the past few weeks. Not only is he using the Gram to promote his new music, but he is also interacting with his fans and critics. This past weekend, one Mavado Gullyside fan wrote a scathing rebuke of Kartel over Lizard's murder and his activity on social media. That fan has now private their profile after Kartel clap back.
Vybz Kartel posted a old video clip of Firelinks while remembering the legendary sound system selector as the first disc jockey to play his dubplate. One Gully fan commented under the post calling out Kartel for being active on social media despite being in prison.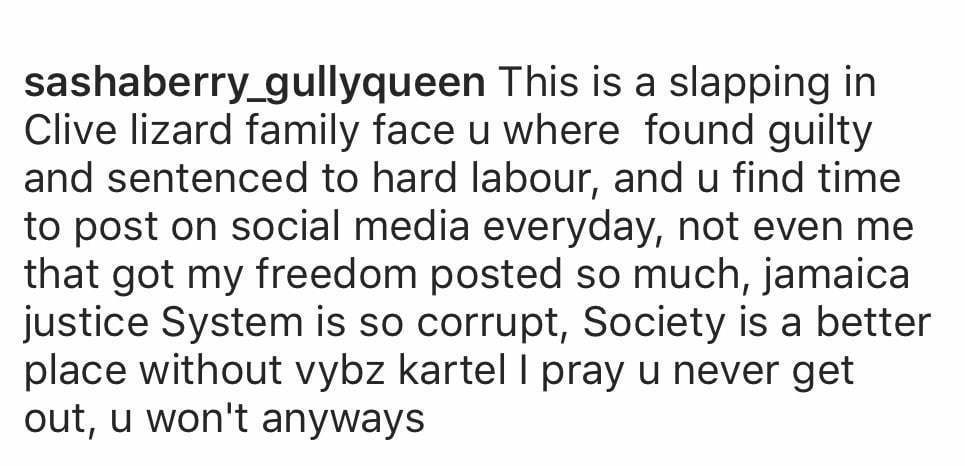 "This is a slapping in Clive Lizard family face you were found guilty and sentenced to hard labour, and you find time to post on social media everyday, not even me that got my freedom posted so much, Jamaica justice System is so corrupt, Society is a better place without Vybz Kartel I pray you never get out, you won't anyways," Gully Queen wrote.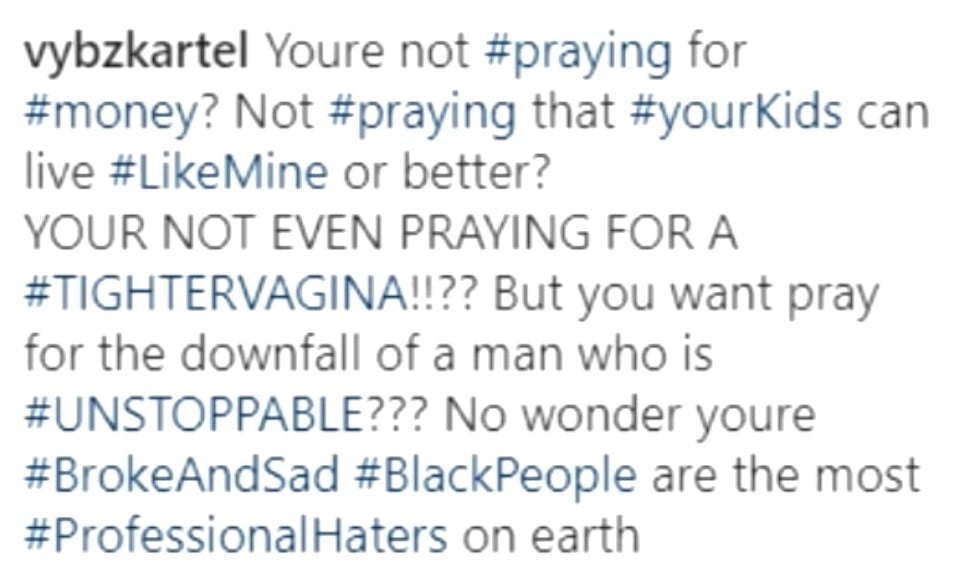 Kartel clapped back saying, "You're not praying for money? Not praying that your kids can live like mine or better? You're not even praying for a tighter vagina? But you want to pray for the downfall of a man who is unstoppable? No wonder you're broke and sad, black people are the most professional haters on earth."
Indeed, that was a sharp rebuke from Kartel of this fan of the other side. The comment has since been deleted but not before we got a screenshot of it.
Kartel, whose government name is Adidja Palmer, was convicted in 2014 for the murder of Clive "Lizard" Williams. He and his three co-accused, Shawn Storm, Andre St John, and Kahira Jones, were sent to prison for life for the murder. The four men appealed the conviction and the case was wrapped in the Appeal Court in July of this year. They are now awaiting a verdict in that appeal.