Drake fans are not happy after listening to Lil Wayne new album Tha Carter V.
Lil Wayne finally drops that Carter V album and Drake is nowhere to be found on the 23-track project that contains appearances from Nicki Minaj, Travis Scott, XXXTentacion, Kendrick Lamar, and more. Sources told Urban Islandz that Drake was initially slated to be on the project, but Lil Wayne decided to save the song for later. We're also told that a song with Mannie Fresh and another song with Post Malone should've been on the project, but was ultimately left off in the end.
"There is a song with Tunechi and Drizzy, but for whatever reason, it was left on in the end, maybe there was just too many songs and sometimes you kinda have to put some on the chopping block," a Young Money source said.
Lil Wayne, Drake, and Nicki Minaj are the three artists that put Young Money on the map and have been dominating the game for the past decade. In fact, Drizzy currently has the top-selling album of the year so far, and last year, he had the most streamed album on the planet. It's safe to say that the Toronto rapper is the leading rap artist commercially in the game for the past couple of years.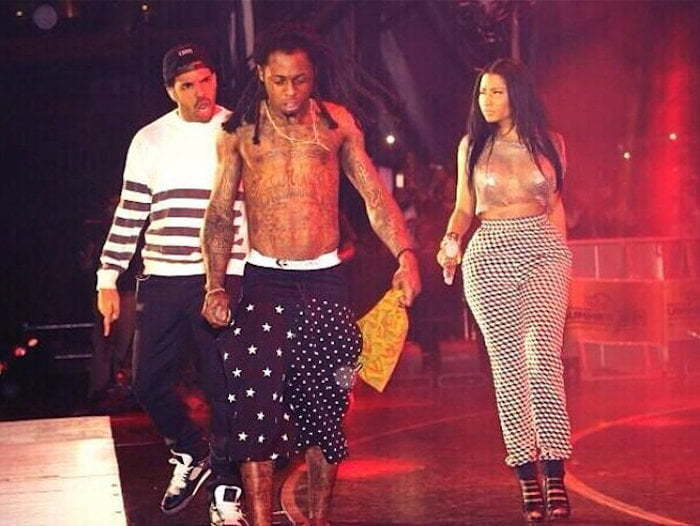 Perhaps Lil Wayne feels it's now time to reclaim his spot from Drake, which will not be an easy task. Drizzy find a formula that has been working, and he will be milking it for as long as he possibly can, this man is not taking any break from doing what he loves.
Nevertheless, Lil Wayne included Nicki Minaj on the project, but his other right hand, Drake is nowhere to be found. Some fans are already speculating that there may be a rift between Weezy and Drake. After all, the 6 God did smash one of his old exes, Tammy Torres, so there may just be some bad blood coming from that.
Not one track with Drake on the #CarterV pic.twitter.com/6R1E6cHeGr

— lil taco lives ? (@TarisUnscripted) September 28, 2018
When you're almost done with Lil Wayne Tha Carter V and no Drake feature in sight pic.twitter.com/Z6gI9ruOMl

— Ricky Rodriguez (@Nerdround) September 28, 2018
Lil Wayne was drake before drake don't ever forget.

— Jordan R. (@JayKnxwles) September 28, 2018
I was waiting for another Drake and Lil Wayne collab and we didn't get it on Tha Carter V bruh. pic.twitter.com/4wEO3kRBok

— CHUBBS?/MAFIOSO BRON (@vlonetggr) September 28, 2018
Lil Wayne put NICKI on the album but not DRAKE? pic.twitter.com/KHe9ZRjvHB

— ??ike (@mike_cuomo) September 28, 2018
https://twitter.com/kurutsiaudu95/status/1045532399067680768
https://twitter.com/kalebhaney/status/1045530689565806593
Wayne didn't need to include Drake. He's WAYNE! He gave us the Lil Wayne we knew before Drake. Plus he's featured on hella Drake songs so we already know what a Wayne Drake collab sound like. IJS…..Carter V about Wayne & I'm loving it….I'm only on track 5

— Gail BeAN (@Gail_BeAN) September 28, 2018
Lil Wayne dropping Carter V with no Drake featured ???

— FRIN JR 1 9? (@Elkanakipngeno) September 28, 2018