Nicki Minaj reveals the official tracklist for her new album Queen.
Nicki Minaj oft-delayed album will feature guest artists like Foxy Brown, Eminem, The Weeknd, Lil Wayne, Labrinth, and Swae Lee. The album will be released on all streaming platform today at 12 p.m. EST and 9 a.m. PST. Nicki was on her "Queen Radio" station on Thursday night for an album listening party with Zane Lowe interviewing her. Things didn't go as planned but in the end, we will get the album.
Nicki will be playing the entire album on her radio station today and will feel questions from some of her fans. The Trinidadian rapper has been working on the long-awaited album since last year, and she revealed that she just put the finishing touches on her next body of work.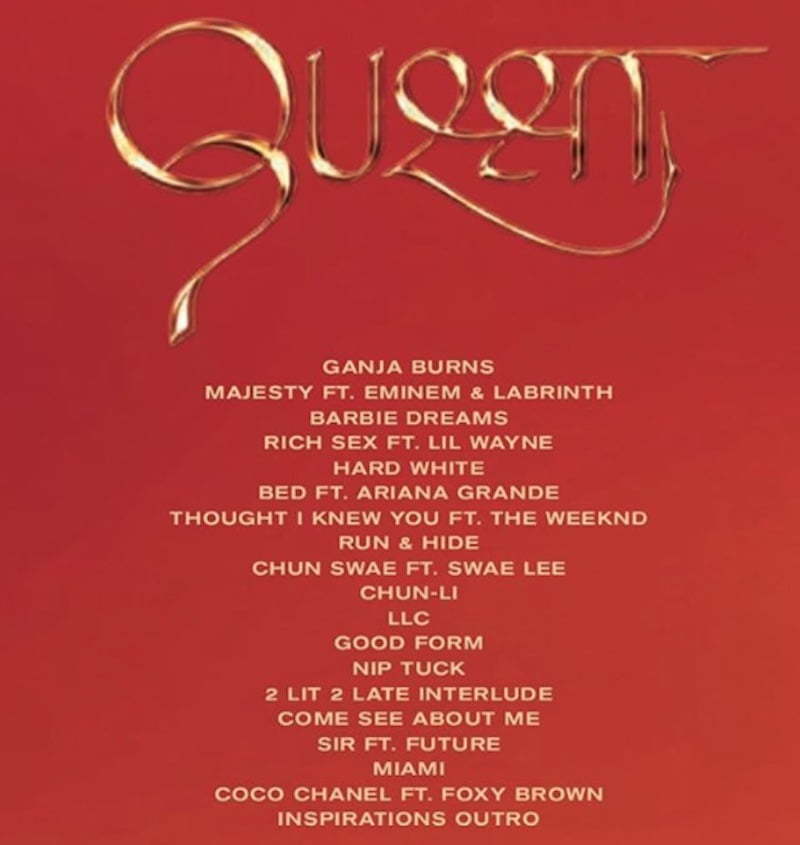 Foxy Brown is featured on the single "Coco Chanel," The Weekend is on "Thought I Knew You," Eminem and Labrinth are on "Majesty," while Lil Wayne drops a verse on the recently released single "Rich Sex."
Queen tracklist
1. Ganja Burns
2. Majesty Feat. Eminem & Labrinth
3. Barbie Dreams
4. Rich Sex Feat. Lil Wayne
5. Hard White
6. Bed Feat. Ariana Grande
7. Thought I Knew You Feat. The Weeknd
8. Run & Hide
9. Chun Swae Feat. Swae Lee
10. Chun-Li
11. LLC
12. Good Form
13. Nip Tuck
14. 2 Lit 2 Late Interlude
15. Come See About Me
16. SIR Feat. Future
17. Miami
18. Coco Chanel Feat. Foxy Brown
19. Inspirational Outro