Foxy Brown is bang in all her glory on Nicki Minaj new track "Coco Chanel."
This beat will have every bad chick in the clubs twerking. Nicki Minaj's long-awaited new album Queen is finally here, and one of the most anticipated collaboration is with the legendary Foxy Brown on a track called "Coco Chanel." The Brooklyn legend went all hardcore for us while reminding us that she is the queen of ratchet female rap tracks.
"Gimme some bloodcl*** gunshots / Brooklyn where the f**k we at? / Flatbush, Bed-Stuy / That's my word to Big, I'ma murder them rasclaats / All black Chloe straps / Gal am go skully to the back / F**k my ratchet at? Come make me dirty that," Foxy spits over a dancehall beat.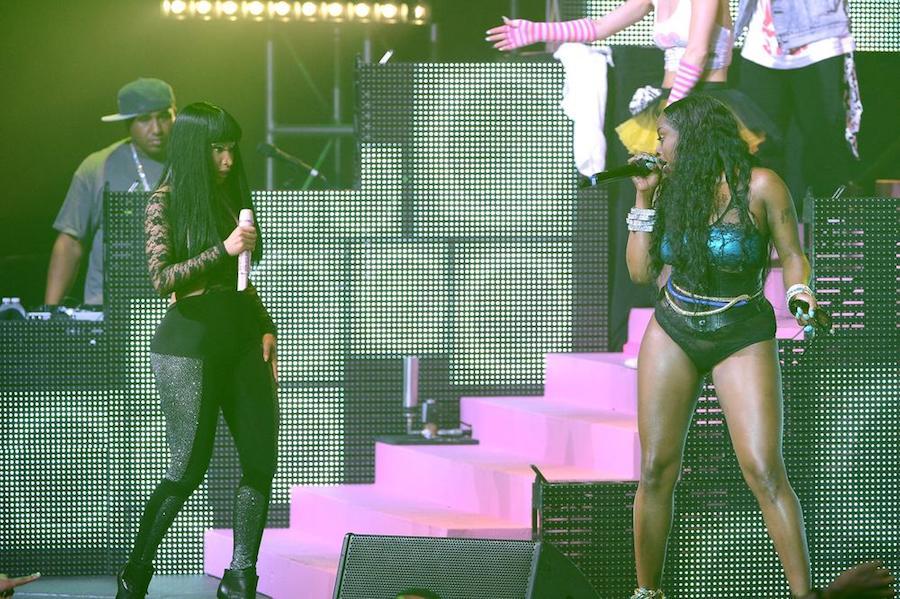 Last year September, Spice revealed on Instagram that she and Foxy Brown got a collaboration in the works and Nicki Minaj got wind of it and said she approves and want in on the action. We still haven't heard that Spice collaboration, so it's safe to say that Nicki beat her to the punch.
The Young Money rapper has always been a huge fan of her fellow Trinidadian legend, and Foxy has always defended Nicki Minaj from attacks from other female rappers like Lil Kim and Remy Ma. In a post on Instagram last year, Nicki praised Foxy Brown as the only female rapper she competes with and even boldly stated that Foxy is the only reason she started rapping.
Foxy has never been shy about her love and admiration for Nicki Minaj who she calls her little sister from Trinidad. Undeniably, both female rappers are huge fans of each other; hence the chemistry they displayed on this new track. "Coco Chanel" is already a top trending topic on social media and Foxy Brown has a significant role to play in that. She has been relatively quiet over the years, so Nicki has to work some magic to drew her own for this one.