A$AP Rocky has denied that he was the one who told Pusha T about Drake's secret son Adonis.
In case you're wondering how A$AP Rocky got involved in the Drake and Pusha T beef here is a quick rundown. So Pusha told the entire world this week that Drizzy has a secret son name Adonis with a porn star name Sophie Brussaux. Turns out that the Toronto rapper wasn't the only rapper/celebrity banging the French model. A$AP Rocky and Iman Shumpert were also in her cookie jar around the same time that she got knocked up.
She wasn't sure which of the men was her baby daddy but she was hoping that Drake was since he is the most famous and the richest. Turns out she hit the lottery jackpot because Drizzy is the father per DNA test. The gossip world is alleging that A$AP Rocky know that Drake was the father the whole time and was even banging the model while she was pregnant with the 6 God's baby.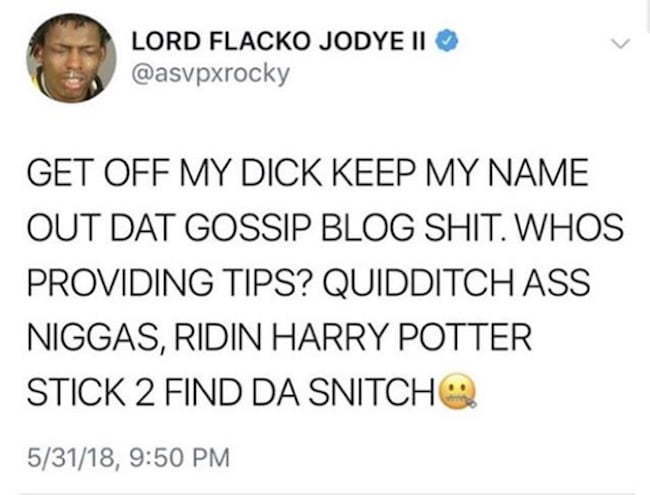 Here is where things got interesting. Some folks are now saying that A$AP Rocky was the one who gave Pusha T the intel to use in his diss track "The Story Of Adidon" which is a blistering take-down of all things Drake. A$AP is now saying not so fast, it wasn't me. Just imagine him saying that in Shaggy's voice.
"Get off my d*** keep my name out dat gossip blog sh*t," Pretty Flocka tweeted. "Whose providing tips? Quidditch azz ni***s riding Harry Potter stick to find the snitch."
Basically, A$AP Rocky is saying that he is not the one who told Pusha T about the baby and folks should get lost and go find the real snitch. Nevertheless, someone gave the G.O.O.D. Music rapper some inside info about Drake's private life. Perhaps it's even his baby mama Sophie, we will never know.