Is Amber Rose dating Lil Pump and is that the reason why 21 Savage savagely rejected her on IG this week.
Unless you have been living under a rock for the past week, then you would've known that Amber Rose poured her heart out for 21 Savage on Instagram but he rejected her in the most savage way that lives up to his name. The Atlanta rapper clearly wants nothing to do with his ex-girlfriend and it seems 17-year-old rapper Lil Pump might have something to do with it.
There have been some rumors floating around claiming that Lil Pump is banging Amber Rose and a photo surfaced this week of the two hanging out at Rolling Loud Music Festival in Miami that helped solidify the murmurs. Of course, we all hope that the rumors are not true given that Amber Rose is 34 and Pump is not even legal yet at 17.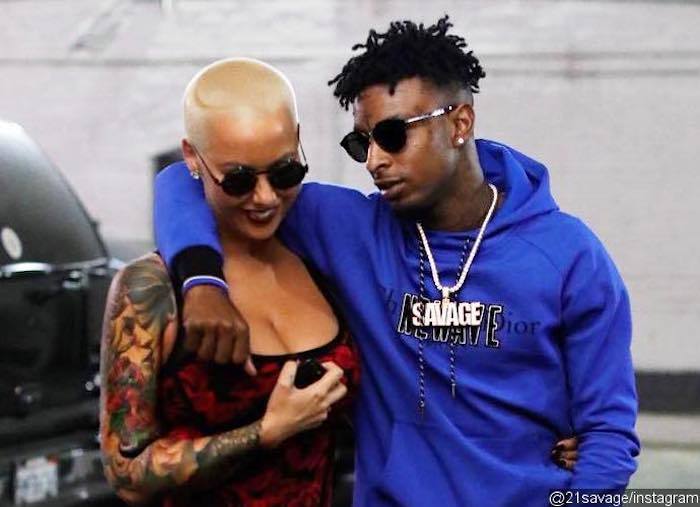 Nevertheless, sources say 21 Savage is disgusted by Amber Rose hanging around Lil Pump and even smoking cigarettes with him. The "Bank Account" rapper thinks that the blonde bombshell crossed the line. For her side, Amber Rose is blaming the internet for their breakup and for fueling the rumors and is claiming that the picture doesn't tell the whole story.
Here is what she said on Instagram in a now deleted post, "I don't care who you see me in a picture with or who the Internet associates me with because The Internet is fake af and they pull stories out of their azzes for click bait."
Some folks are saying that Amber hangs out with Lil Pump in Miami to make 21 Savage, who was also performing at Rolling Loud, jealous. If that was the case then it was an epic fail because it didn't work. Seems Amber Rose is now taking the same route as her best friend Blac Chyna who is dating 18-year-old rapper YBN Almighty Jay.
Amber Rose is 34 and supposedly dating Lil Pump who is 17.. her and Blac Chyna got some issues to deal with

— big head (@Shawnaah) May 14, 2018
@DaRealAmberRose are you dating lil pump? Not trying to read into your IG story muva. BUT, Feels like I caught some subtle hints. ?

— HoneyKombs B?? (@lovelyvalisa) May 13, 2018
what is wrong w amber rose and blac chyna ? both y'all hoes got 18 year old boyfriend ? now amber w lil pump ..? this friendship HAS to do better.

— johnny tsunami? (@skyy__king) May 14, 2018
Amber Rose went from Kanye to Wiz to 21 Savage & now Lil Pump. That's a downward spiral in hip hop community.

— Steven (@Ibeen_clutch) May 14, 2018
Amber Rose trying to move in on Lil Pump and snatch him up before he turns 18 ? Keep an eye on her ? @chrishansen pic.twitter.com/IjTIUKW0fY

— derek schwartz (@derek_mafs) May 13, 2018
Amber Rose is 34 and supposedly dating Lil Pump who is 17.. her and Blac Chyna got some issues to deal with

— big head (@Shawnaah) May 14, 2018