Nicki Minaj is making it clear that she didn't take over Lil Uzi Vert's Instagram account.
On Tuesday, Lil Uzi Vert's IG account posted a pic of Nicki Minaj new song artwork with a caption that made it seems as if it was she who was making the post. The IG post immediately went viral but it turns out that Uzi was just trolling us and Nicki stepped in to bring some clarity to what's been going on.
"Hey it's @nickiminaj I'm letting y'all know I'm bout to takeover This Thursday . I never left I was counting up Big Bags," Lil Uzi Vert wrote. "Don't forget @liluzivert Keep Gettin That Money and don't worry bout No Haters ….. Hit me up wen you get ya phone back."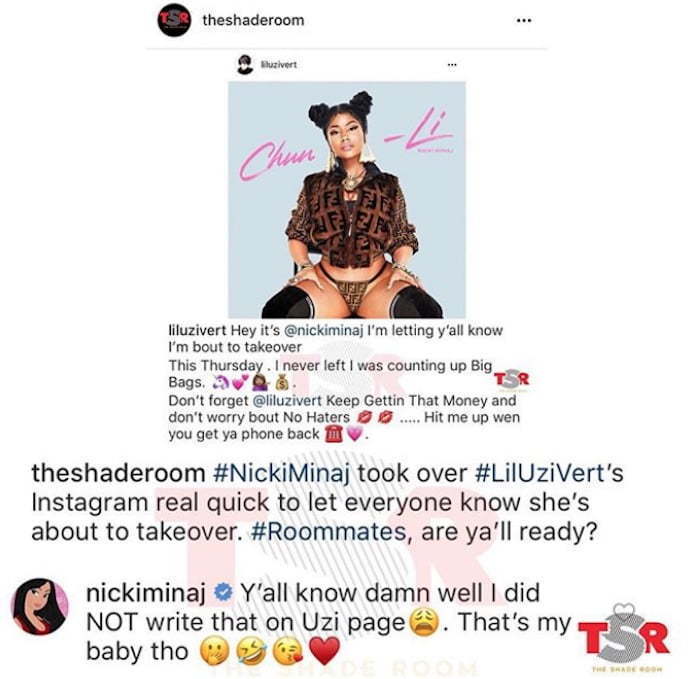 Nicki Minaj commented on the post saying while she loves Uzi she did not write the caption. "Y'all know damn well I did NOT write that on Uzi page. That's my baby tho," she commented.
The Young Money rapper is dropping two new singles from her upcoming album this Thursday. On Monday, she announced on social media that the singles "Chun-Li" and "Barbie Tingz." Both tracks are cuts off her upcoming album, due sometime soon.
https://www.instagram.com/p/BhaGB2iAGps/