Nicki Minaj fans are trolling Cardi B for allegedly using ghostwriters on her new single "Be Careful."
Cardi B dropped the latest track from her upcoming debut album Invasion Of Privacy on Friday. The album is due next week Friday (April 6th). On the new song "Be Careful," the Bronx rapper rips her boyfriend to pieces over his cheating allegations. The track has been getting a lot of attention but Nicki Minaj fans are now trying to take away Bardi's shine.
Some of Nicki fans unearthed a video of Jordan Thorpe (@lifeofthepardi on Instagram) rapping the lyrics for "Be Careful" word for word. "Same exact beat, same exact lyrics. can you address why @lifeofthePARDI was already rapping "Be Careful" on IG last year? @iamcardib," one fan wrote.
"Cardi B's ghostwriter forgot to delete the video of him rapping "Be Careful" in the studio a year ago off his instagram lmao. Her own ghostwriter exposes her for not writing her music by accident im crying," another fan wrote.
Turns out Jordan Thorpe is not really a ghostwriter since he was listed on the song's credits as a writer along with more than a dozen other names. He is also a member of Cardi B's team and has been working closely with her to develop her sound.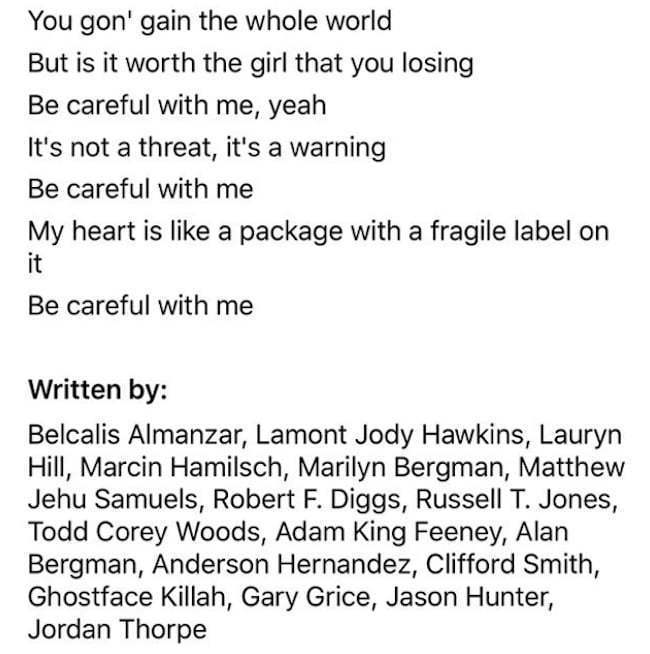 Cardi B new album Invasion Of Privacy is a week away from release and Nicki Minaj's forthcoming LP is not far behind. The two ladies are currently the two top female MCs in the game and their fans and the media have put them against each other from the start. The big question now is which of these two female rappers will drop the better album this year.
Bardi has been pushing back against accusations that she is waiting on Nicki Minaj to drop first before dropping her first LP. Now it's clear that she will be first out the gate.
https://twitter.com/Truebeautyniya/status/979829703405162496
https://twitter.com/jontamaraj/status/979821052858642432
https://twitter.com/i/web/status/979811993434632193