Rick Ross is not dead despite some recent online reporting.
The rap legend is currently getting treatment at a local hospital in Miami for breathing problems caused by possible pneumonia. There are some reporting claiming that Rick Ross has died, but rest assure that those reports are completely not true. Reliable sources close to MMG told Urban Islandz that the death reports are not just false, they are disgusting and malicious. "Rozay is doing good he is not on life support and there are some mother***** reporting online that he is dead be the Boss is alive and well man," sources said. "It's disgusting and malicious."
Rick Ross Maybach Music Group signee Fat Trel has also stepped forward to dismiss reports claiming that the rapper is on life support. "JUS TALKED 2 MY BIG HOMIE… HE GOOD… HE IN DA HOSPITAL BUT HE IS NOT ON "LIFE SUPPORT" … HE GOOD," he wrote in a post on Instagram.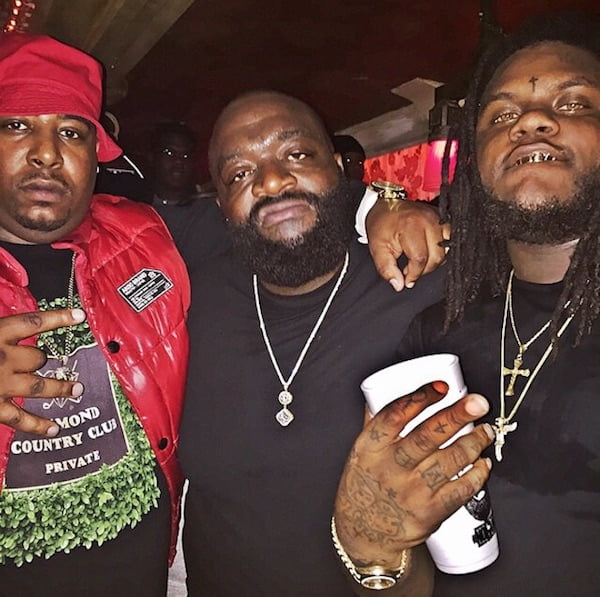 Since news of his hospitalization broke on Friday, Rick Ross has been getting an overwhelming amount of support from his fans and peers in hip hop including Sean Kingston and Diddy who offered their prayers and well wishes. "Please let's all pray for Rick Ross," Diddy wrote.
"Just wonna say that Rick Ross I was in critical condition, I was in the hospital, I was on my death bed, I understand what you're going through, prayers up man," Kingston said. "You're a beautiful person, you're a great dad, you've a beautiful family, don't leave too soon."
Rick Ross has had a history with seizures. Back in 2011, he suffered serious seizure attacks during a flight forcing the pilot to make an emergency landing. At the time, he blamed it on dehydration and exhaustion saying he was touring and wasn't sleeping well. He also made some lifestyle changes by starting eating better and working out that resulted in him dropping a ton of weight.
In 2011, Sean Kingston spent three weeks in the hospital following a serious jet-ski accident in Miami beach. He was listed in critical condition but recovered from his injuries.