Nicki Minaj is found at last and she is in the studio with DJ Clue
Last week we told you that Nicki Minaj is locked down in the studio recording her long awaited upcoming album and now we have some proof to show you. The Young Money rapper's fans, aka Barbs, have been freaking out on social media because the queen has been radio silent on social media for the last 45 days. A little birdie told us that she has been taking a social media detox while also working on some new music.
DJ Clue calmed some of the jitters on Sunday when he posted a photo of himself and Nicki Minaj in the studio. "A Couple Kids From Queens Nyc," he wrote. Her fans quickly converged on the pic with a big sigh of relief. "Aye clue stop f***ing playing with us my ni**a. Queen Nicki we f***ing Miss you please just drop a preview 20 secs is all we need please you killing me I need you Nicki I'm on here looking crazy for you. WTF you at," one fan wrote.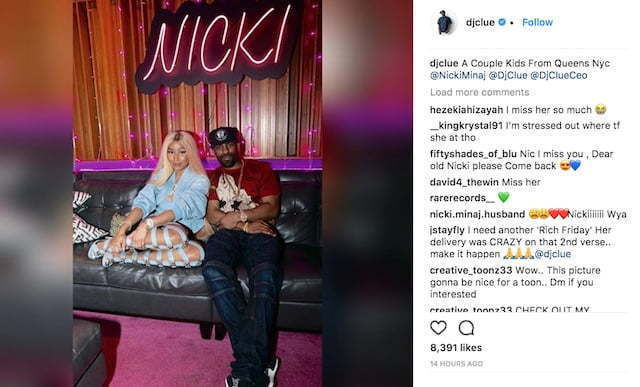 Nicki Minaj and DJ Clue have known each other for years and have even worked together on the 2013 single "Rich Friday" featuring Future, Juelz Santana, and French Montana. He also produced Future's 2014 single "Rock Star" featuring Nicki Minaj. We're told us that the Trini femcee has been working overtime on her upcoming album that she hopes to deliver before the summer.
"She wants to drop that new tape by summer man, the fans have been waiting and trust me the wait will be worth it, she's coming with the biggest album of year," sources said.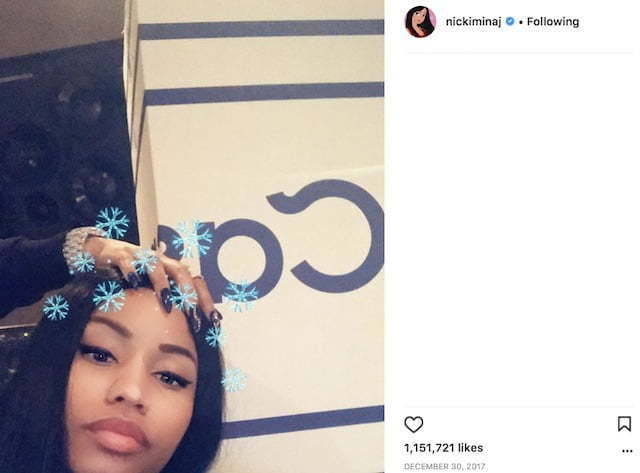 The last time Nicki Minaj was active on social media was on December 30th when she posted a selfie of herself next to her Casper mattress. The pic was taken inside her studio, a clear sign that all she has been doing is recording and napping.
Nicki Minaj has been missing from social media ever since news broke that she and Nas have broken up. The New York rap legend is reportedly dating actress Tasha Smith and sources say Smith is the reason for their split.