XXXTentacion is in a serious legal bind and could spend Christmas and New Year's in jail.
The South Florida rapper posted an image of his court document on Instagram while issuing an apology to anyone who he may have let down if he gets locked up at his next court hearing on December 15th. XXXTentacion is set to stand trial for domestic battery by strangulation, witness-tampering, false imprisonment, and aggravated battery of a pregnant woman. These are all serious charges against the rapper and could put him in the slammer for years if found guilty.
"Court date is on the 15th 9:00 am here is my court information, if I am taken into custody, I want to tell everyone I've let down I apologize, I tried my best, I really did," X wrote on IG. Earlier this month, the "Look At Me" rapper's legal team filed an affidavit claiming that the victim in the case no longer wishes to pursue the case against him but the prosecution objected and argued that the affidavit might not even be legitimate.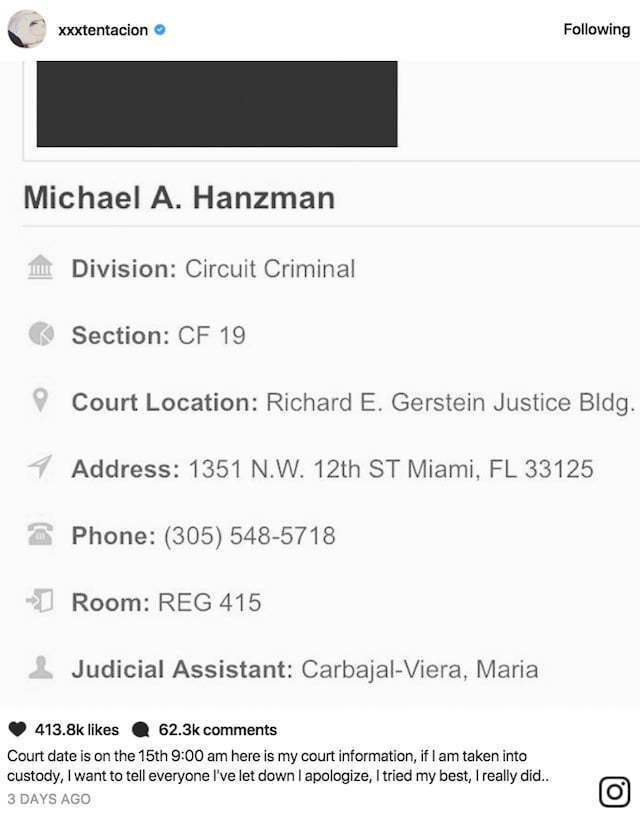 XXXTentacion has been having a rocky year despite tasting mainstream success with his rap career and even landing a lucrative record deal with Capitol Records worth a reported $6 million. During the summer he got into a beef with another rapper whose crew knocked him out on stage at one of his tour stops in California. Last month, he again got into an altercation with some guys link to rap group Migos. Despite getting a beat down, he was defiant on social media about getting back at the Atlanta trio.
XXXTentacion released his new EP, A Ghetto Christmas Carol, ahead of his upcoming court date. The project features five new singles including a song he produced himself "Up Like an Insomniac" where he fired off a freestyle.