Kodak Black learned the hard way that he should respect the OGs in hip hop.
Yesterday, the "Tunnel Vision" rapper posted a meme on Instagram where he compared some JAY-Z lyrics from back in the 90s to some of his own recent lyrics. What he was insinuating is that he is a better rapper than Hov where he basically said all Jay raps about in the 1990s was "Money, cash, hoes." That line was taken from a chorus off his 1998 classic album Vol 2 … Hard Knock Life.
In contrast, Kodak shared some of the lyrics from his single "Can I" where he raps about balling stunting and wanting to live long enough to raise his son. "Can I ball? Can I chill? / Can I stunt? / Would I live long enough to raise my son? / Made something out of nothin' / And nothin' what I'm from / Can your boy do something productive for once?" Kodak Black raps. Though he only shared the chorus from JAY-Z's song, there is a lot more to the song than just that.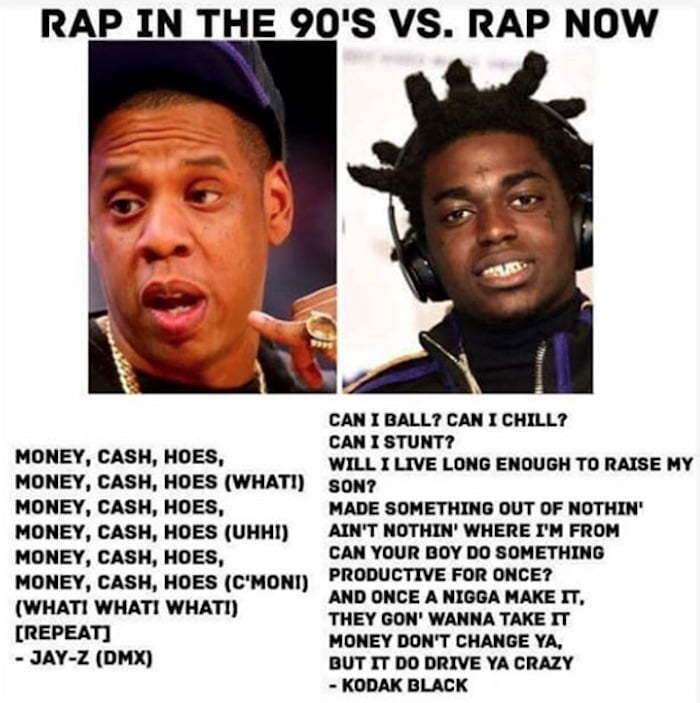 Here is what Hov said, "Flavors robust platinum and gold touch / Y'all rap now, fast money lets slow it up / Ni**az try to stop Jay-Z to no luck / Roc-A-Fella forever CEO what what / Us the villains, f**k your feelings." If you step back and take a look at the project that Kodak Black released the single on, Lil B.I.G. Pac, it is full of nostalgic imagery.
Hip hop fans ceased on the moment to remind him that he cannot be compared to a rap titan like JAY-Z who just released possibly the best rap album of the year, 4:44. "This is f**kin retarded he just compared his self to j z … first of all let's start with future ,and yo gave the worst example of a 90 s song tf," one fan wrote in the comment while another added, "What gives you the confidence or assurance enough to post things like this?"