Chris Brown may not be the biggest selling artist this year but he is certainly the artist with the most RIAA plaques.
The R&B crooner received a whopping 40 certifications in 2017 from the Recording Industry Association of America, RIAA. The certifications and a mixture of gold and platinum plaques for some of his older music that was supposed to get certification but never did for some weird reasons. Among the plaques he received is one for a single that was certified 12 times platinum.
Chris Brown thanks his fans on Twitter for their support in making this happen and now he is on his way to being one of the greatest R&B artists of all-time. "40 PLAQUES THIS YEAR! Today the RIAA released 23 more certified platinum and gold plaques that included 12 x multi platinum singles. 74.5 million single and album sales just in the US. #TEAMBREEZY," Brown tweeted.
On November 22, Chris Brown received 22 certifications from the RIAA including a four times platinum plaque for his single "Forever," while his single "With You" gets a three times platinum certification. Two of his songs "Run It" and "I Can Transform Ya" received double platinum status while seven songs, "Next to You," "Don't Judge Me," "Gimme That," "Liquor," "Grass Ain't Greener," "Wall To Wall," and "Yo Excuse Me Miss," all received one time platinum status. On top of that, he received ten gold certified songs.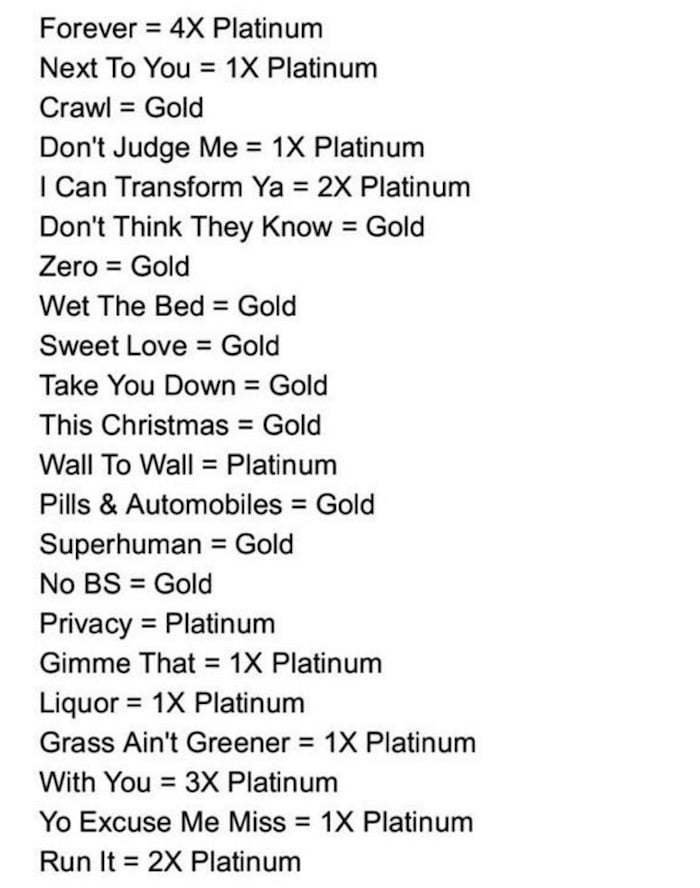 Chris Brown is still putting out a ton of new music and scoring a lot of hits. His new album, Heartbreak on a Full Moon was released with 45 songs with the majority of them being new music. The project debut at No. 3 on the Billboard 200 chart and is currently at No. 11. The album has since been certified gold by the RIAA and is on its way to getting platinum status possibly before the year ends.
40 PLAQUES THIS YEAR! Today the RIAA released 23 more certified platinum and gold plaques that included 12 x multi platinum singles. 74.5 million single and album sales just in the US. #TEAMBREEZY ?? ???? pic.twitter.com/P6Lu9B58NG

— Chris Brown (@chrisbrown) December 7, 2017