Quavo and Childish Gambino are cooking up some new music in the studio.
The Migos rapper recently wrapped up his joint album with Travis Scott and already he is moving on to work on something new, this time with his fellow Atlanta artist and close friend Childish Gambino, aka Donald Glover. Quavo ignite Instagram yesterday when he posted a photo of himself and Gambino in the studio. The pic shows the "Portland" rapper appears to be cutting up weed while Glover stands in front of a laptop. "H U N C H O G L O V E R N A W F A T L A N T A," he wrote in the caption.
He didn't revealed what they are working on but it could be music or some TV production. Migos appeared on the first season of Donald Glover's hit comedy TV series Atlanta. He won a Golden Globe award for the show and gave Migos a big shou-out during his acceptance speech when he praised them for their single "Bad and Boujee" and even refers to the group as the Beatles of this generation.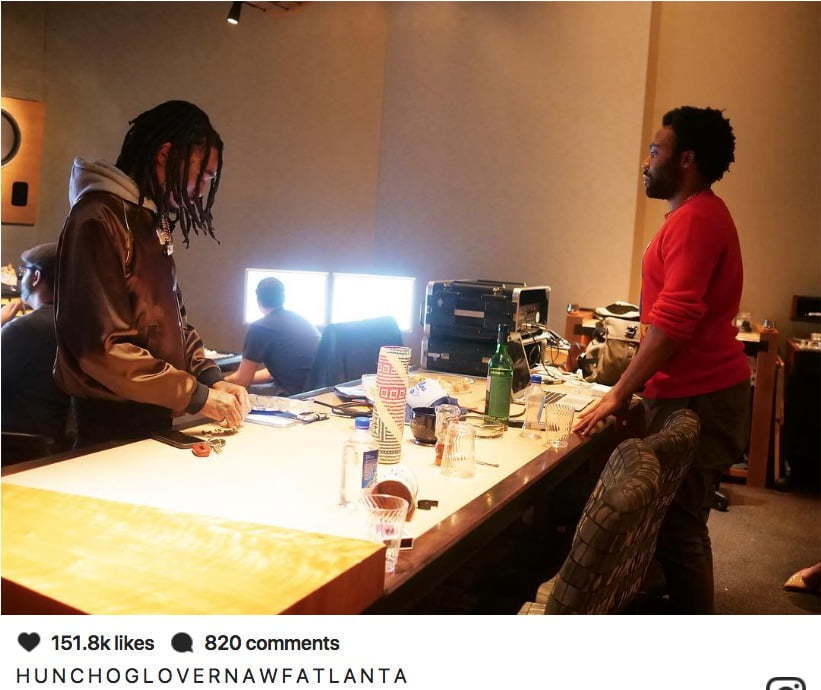 This is the second time that the two posted a photo of themselves in the studio together in recent weeks. Back in October, they posted a pic of Quavo, Donald Glover, Lil Yachty, and Chance The Rapper in the studio together. The final products from those recording sessions are not here as yet, but we are all waiting patiently. Quavo is one of the most requested artists this year for guest verses on other artists music. He is also one of the most streamed artists on Spotify this year as he continues to build a catalog for himself out of the group. Migos is currently working on their new album Culture 2, which they say is coming soon.