Kodak Black is adamant that he is the Lil Wayne of this generation but Twitter thinks that he couldn't be more wrong.
There was once a time when Kodak Black said he is greater than Lil Wayne and he got hammered for it. Seems he never learned his lesson or his obsession with Weezy is getting the better of him because now he is referring to himself as the Lil Wayne of this generation of hip hop. Rappers these days can't help themselves when talking about some icons of the genre, everyone wants to be the Tupac, Biggie Smalls, Nas or JAY-Z of this generation.
One of his fans on Twitter wrote "Kodak Black is the Lil Wayne of this generation" and the Pompano Beach rapper enthusiastically added, "I Swear." Those two harmless words triggered a Twitter firestorm and Weezy never had to utter a single word. "How can that even be compared Lil wayne has the nastiest word play I've ever heard he put ppl on," one fan tweeted.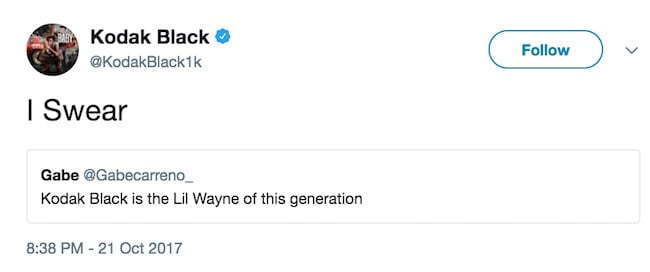 Kodak Black buried his beef with Lil Wayne and even announced recently that he has a new collaboration with the rap legend already recorded and mastered. During one of his frequent Instagram Live sessions last weekend, he revealed that he wants to get Future on the record. "By the way, I finna [trying to] get Future," he said. "Future need to get on this song me and Lil Wayne on. Me and Tunechi on."
Since leaving prison in November last year, Kodak Black has had a good run in hip hop this year with a handful of hits and a new album Project Baby 2, released in August. The Florida rapper also has his fair share of legal troubles that are not going away including a rape for which he was just indicted for.
I Swear https://t.co/y8M6ch1bEs

— Kodak Black (@KodakBlack1k) October 22, 2017
— JT Picasso ??? (@Ftoe_JT) October 22, 2017
who tf lied to you?!?! no one could ever compare to Wayne. ?

— j (@jaee_layne) October 22, 2017
Gtfoh ?

— Sir Jewlz (@SirJewlz) October 22, 2017
— Luffy??? (@W_lawrence1) October 22, 2017
https://twitter.com/DGBastard/status/921899078933508097