Drake quietly disses Meek Mill ahead of the release of his Wins and Losses album on Friday.
Meek Mill is getting ready to release his highly anticipated new album titled Wins and Losses on July 21 and Drake is paying close attention low-key. A fan of Meek left a comment on DJ Akademiks Instagram page recently praising the Philly rapper for getting strong sales numbers for his previous albums and mixtapes while saying that this new LP will be no different. Interestingly, Drake was lurking through the comments and liked that particular comment. See below the entire comment.
"Meek a flop. He sold out an entire arena. Look at his DWMTM numbers. Look at DAN2 and Dream Chasers mixtapes. Go to Philly and talk sh*t I dare you. You'll get beat the f*** up on god. Meek is a real one never would fold. His whole team ain't even got to work, he got them jewelry and everything. He gives back to the hood too. I been known this sh*t. Meek has NEVER been a flop. He owned the clubs till the Drake beef. Oh wait, that's what YOUD think. Nah b*tch a*s mf he been owned the clubs you lame. You gone be mad you ever slept on Meek.
Quite a lengthy rant from that loyal Meek Mill fan. But the comment rose to the surface because Drake liked it. It could be that the 6 God is just trolling or he is simply saying that he is so over the Drake versus Meek Mill beef. Nevertheless, because of this comment and move by Drizzy, everyone will be looking out for Wins and Losses first-week sales figures.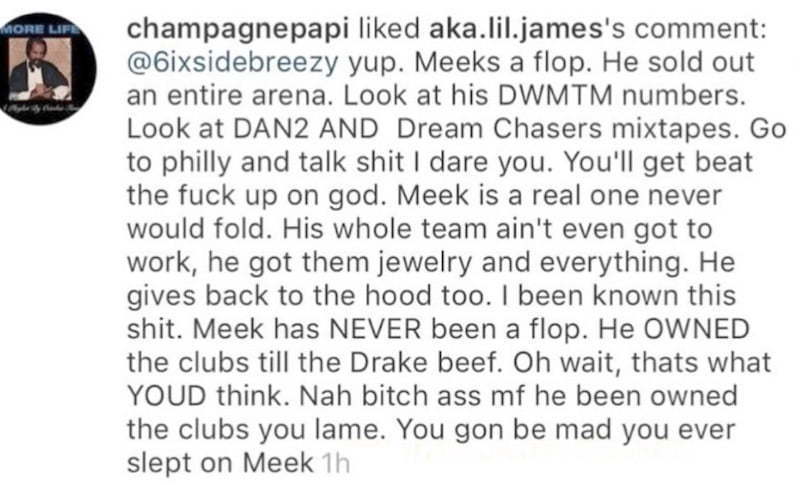 The question now is this too much added pressure on Meek Mill to pull big sales numbers or is this more motivation for his fans to go grab a copy of his album. Drake and Meek have never officially ended their beef but there was a point when the two rappers were supposed to have a face-to-face which didn't happen because both sides were not really interested.