JAY-Z has finally broken his silence on his relationship with Kanye West on his new album 4:44.
Last year November, Kanye West went on a rant on stage his Saint Pablo tour where he accused JAY-Z of being a bad friend by putting business over their friendship and also hiring hitman. He also claimed that Hov didn't check up on him and his wife Kim Kardashian when she got robbed in Paris. Shortly after that famous rant, Kanye was hospitalized for a nervous breakdown. Doctors say he was suffering from dehydration and exhaustion that triggered a psychic break.
This is the first time that JAY-Z is addressing Kanye West. On the first single on the album "Kill JAY-Z," Hov raps about Kanye West having a "f**k everybody" attitude. "You dropped outta school, you lost your principles/ I know people backstab you, I feel bad too/ But this f*** everybody attitude ain't natural," Hov raps. During his rant in November, Kanye West didn't just call out JAY-Z, he also spoke out against the industry.
On the same single, the Roc Nation rapper took more shots at Ye rapping, "You gave him 20 million without thinkin'/ He gave you 20 minutes on stage, f**k was he thinkin'?/ 'F**k wrong with everybody?' is what you sayin'/ But if everybody's crazy, you're the one that's insane." Here JAY-Z to a business deal between himself and Kanye West worth $20 million. At first people thought that Hov simply gave Ye $20 million as a gift, but rumors started circulating that it was a business deal that went sour. A few years ago there was also some rumors circulating claiming that Kanye West owes JAY-Z $20 million.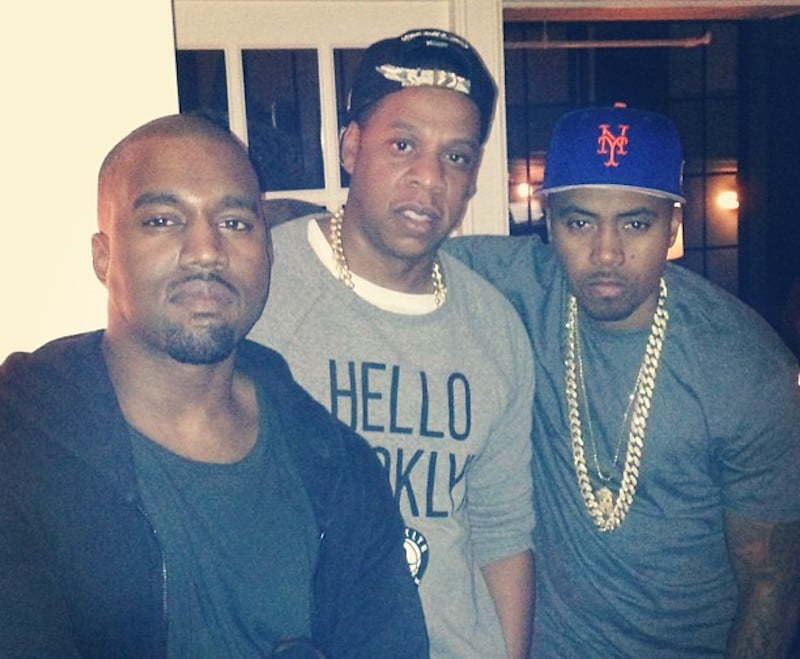 On the single "Bam" featuring Damian Marley, JAY-Z responded to one of Kanye West's famous lines on an old track. "Uh, ni**as is skippin' leg day just to run they mouth/ I be skipping leg day/ I still run the world," Hov raps. On the single "30 Minutes" Kanye West famously rap about his workout session. "I hit the gym/ All chest no legs," Ye raps. JAY-Z single also sampled Sister Nancy classic dancehall single.
One of JAY-Z and Kanye West biggest collaborative single is "Ni**as In Paris" and now Jay has a few reference to Paris on his single "Caught Their Eyes" where he raps, "Don't big bro me, don't big homie/ I've seen pure admiration become rivals/ I've been to Paris at least two times/ I've seen the Eiffel, I've seen an eye full."
There is another line on the single "Kill JAY-Z" where Hov reference Eric Benet, but some fans on Twitter are saying that he is dropping shades on Kanye West. "You almost went Eric Benét / Let the baddest girl in the world get away / I don't even know what else to say / Ni**a, never go Eric Benét!"