Bow Wow has reacted to a fan who busted him for stunting on Instagram on Tuesday.
The rapper/actor posted a photos of a private jet and luxury cars telling his fans that he is in New York doing some traveling while promoting his new project. "Travel day. NYC press run for Growing Up Hip Hop. Lets gooo. I promise to bring yall the hottest show EVER. May 25th on @wetv," Bow Wow wrote on IG.
Another photo showing him traveling on a commercial flight went viral. The photo was captioned, "So this guy Lil Bow Wow is on my flight to NY. But on Instagram he posted a picture of a private jet captioned 'traveling to NY today' SMH." Bow Wow, aka Shad Moss has since responded calling the photo old. "Ni*** so dumb, he said. "Ni*** take an old picture to say where I was and wasn't who do that? Yall betta stop playing with me hahaha ni***s is retarded."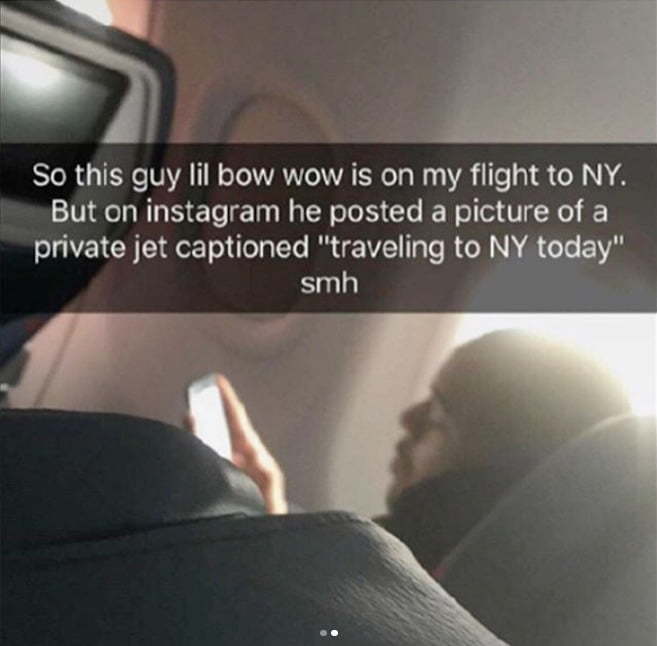 Twitter is also roasting Bow Wow for the claims that he was traveling on a private jet.
https://twitter.com/RobDaRuler/status/862047021594693632
Bow Wow posted a pic of a private jet on IG then got caught on a commercial flight LMAOOO pic.twitter.com/25a2vulV9C

— Trashvis (@Trashvis) May 9, 2017
Let Bow Wow be a lesson: Stop comparing yourself to folks on social media. Most of them aren't living how they claim.

— Britni Danielle (@BritniDWrites) May 9, 2017