Soulja Boy has hit back at his own mother and brother with no chill.
While I can understand getting back at his brother, but he probably should have just leave his mother alone in this so-called family beef. Over the weekend his brother John Way released a diss track and the a video of himself and their mother calling out the SODMG rapper for getting rich and leaving them in the hood.
John seems to be feeling salty about Soulja Boy flexing his wealth on Instagram but at the same time his mother is on welfare. "All on the 'gram flexin' like you the f***in' man/ My momma still on welfare, s**t I can't understand it," he raps. In a video clip posted on IG, Soulja's mother chimed in saying "We are at my house in the middle of the goddam hood."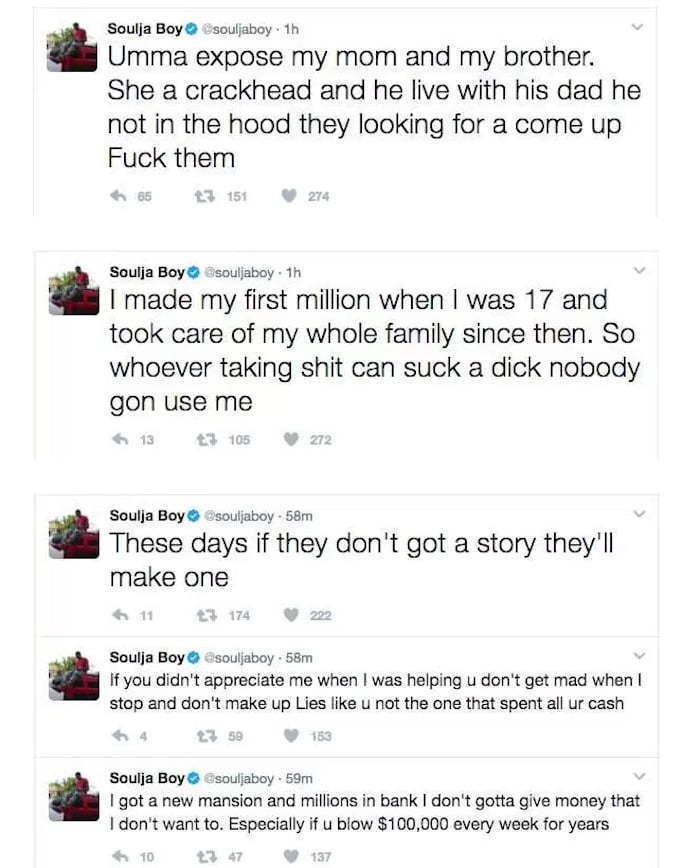 Soulja Boy seems to be feeling some type of way about the bad press and responded in a now deleted video before going on a rant on Twitter calling his mother a crackhead. "Umma expose my mom and my brother," he tweeted. "She a crackhead and he live with his dad he not in the hood they looking for a come up F**k them. He didn't stopped thee and went on to say that he gave his mother $100,000 and she blew it in one week. "I got a new mansion and millions in bank I don't gotta give money that I don't want to," he wrote. "Especially if u blow $100,000 every week for years."
Soulja Boy promises that he would be doing an interview to clear the air amidst the allegations from his mother and brother. I guess you can see that Soulja's beefs have come home to haunt him.
New interview coming soon clearing all these fake ass stories up. Love y'all

— Soulja Boy (Young Drako) ??? (@souljaboy) March 13, 2017
This is the diss track from Soulja Boy's brother John Way.