Nicki Minaj address her breakup with Meek Mill on her new single "Regret In Your Tears."
The track is one of three new singles the Young Money femcee released on Thursday night. She also claps back at Remy Ma on "No Frauds" with Lil Wayne and Drake and again With Wayne on "Change It." All three songs are currently in the top ten on iTunes chart.
While "No Frauds" is getting the most attention, the song "Regret In Your Tears" is also being talked about a lot on social media and a lot of those chatters are geared towards Meek Mill. "'Cause you don't even know what you just lost / You don't even know what you just had / You don't even know, and that's what's bad / Money bag long, that b**ch bad / Used to lay up in them sheets, they were snow white / Now you spendin' cold nights / You've been in the wrong so long," Nicki raps.
Nicki Minaj also seems to confirm what Safaree Samuels said on Wendy Williams this week that she creep on him with Meek Mill. "You gon' f**k around and make me do you bad / Used to creep, creep, with you through the back / I count up the cash and bring you the bag / I count up the racks like Serena / Plus I got that a*s like Selena," she raps in the second verse.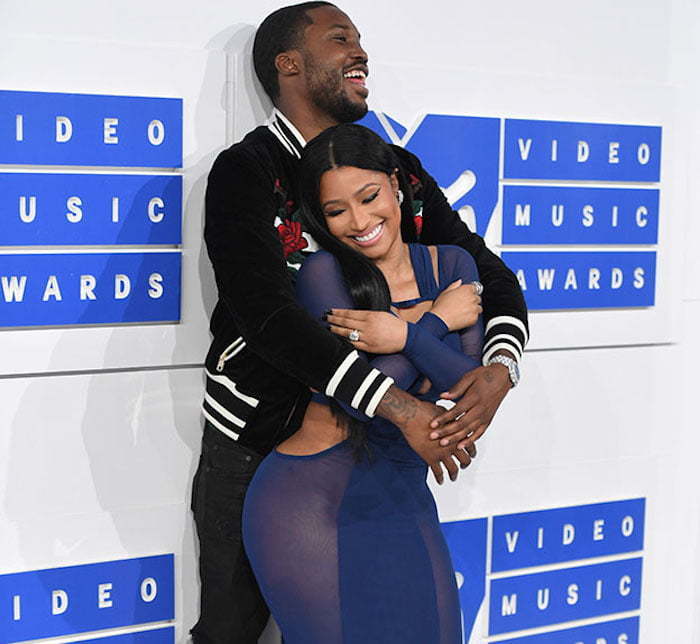 Meek Mill is already cooking up his own diss track on his upcoming DC4.5 project. No word yet on when that album will be released, but Urban Islandz previously reported that he plans on dropping it the same day that Drake released More Life. These three songs from Nicki Minaj are packing a lot heat and will appear on her upcoming album due sometime this year. Lil Wayne is also working on dropping a new album so more Nicki collaborations could be coming.
Nicki Minaj and Meek Mill broke up in December while she was celebrating her birthday in Turks and Caicos. In January, she confirmed that she is single after weeks of rumors. But this is the first time she is addressing the bitter split and she did it in a song.
Nicki Minaj called the song "Regret In Your Tears" her favorite song of all time. "This just became my favorite song of all time. We been drinking pina coladas listening to it non stop GETTING LIFE!!!!!!! #RegretInYourTears @candiworld @justinepeacock dedicated to all the bad ass, intelligent, strong, loyal women out there. When a man loses us, he loses so much more. Love YOURSELF! You're worth being treated like the QUEEN u are. Never forget that. They gotta APPRECIATE your magic. Or get the steppin. With Love."