Nicki Minaj and her fans will not be letting Meek Mill have a happy Valentine's Day thanks to her now viral hashtag on Twitter #UgonLearnTewday.
While she didn't specify who she was was directly her jabs towards, her fans chose her estranged ex-boyfriend Meek Mill and started trolling him until the hashtag went viral. "Who u thought was gon pay ya rent? #UgonLearnTewday," she tweeted with a few emojis. But she could be also talking about her other estranged ex Safaree Samuels.
One of her fans asked her for a name but she hasn't been forthcoming. "Just give us the name Onika, we're on standby to drag. #UgonLearnTewday," one fan tweeted.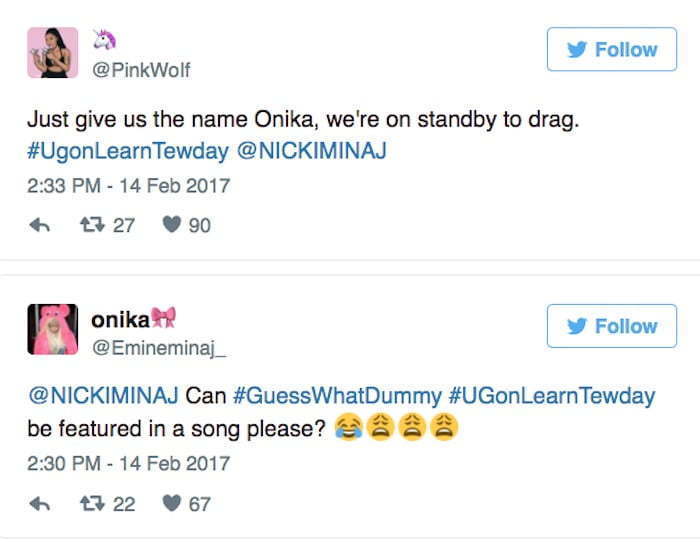 It could also be that the Young Money rapper is planning to drop a new single with the same title as the two viral hashtags #UgonLearnTewday and #GuessWutDummy. Her fans made a ton of memes about Meek Mill and a few others not related to the Philly emcee. Something tells me Meek Mill will not return to Tweeting anytime soon and might very well just stick with Instagram.
Some fans believed that Nicki Minaj was about to drop her new album with that title, but so far there is no album or new music from the head barbie.
Who u thought was gon pay ya rent? #UgonLearnTewday ????

— QUEEN (@NICKIMINAJ) February 14, 2017
One fan even linked the hashtags to the infamous video of Meek falling off some steps at his mother's house in the snow.
When he realized what he lost..?? Sorry guys but I had to post this?#UGonLearnTewDay pic.twitter.com/g3bzxgLzNP

— BARB MINAJESTY ? (@Barb_Minajesty) February 14, 2017
Where do she come up with these tags ?? #UgonLearnTewday pic.twitter.com/Oczuljh3iE

— Ash-Li?. (@AshleyLove_x3) February 14, 2017
Trying to figure out what's going on in her life right now..?? @NICKIMINAJ #GuessWutDummy #UGonLearnTewDay pic.twitter.com/pfoOXSDm5P

— BARB MINAJESTY ? (@Barb_Minajesty) February 14, 2017
https://twitter.com/abeIstargirI/status/831599674708676608