Nicki Minaj and Drake are friends again and their fans are loving it. In fact, some fans are going as far as begging the big booty rapper to take Drizzy out the friend zone.
Both Nicki and Drake posted a photo of them on IG on Wednesday sending social media into a frenzy. It's no secret that the Toronto emcee has long had a big crush on his Young Money labelmate and she has always flirted with him. Now fans are eager to see them together now that Nicki Minaj is back on the market.
"Honestly…. I'm here for Drake to finally get out the friend zone with Nicki," one fan on Twitter wrote while another added, "Drake gonna hop out the friend zone this time around with Nicki. Meek gonna hate him even more."
Some fans are even suggesting that Drake is taking an L over Meek Mill because he has been in the friend zone for almost a decade now. "Meek took an L for hitting Nicki and moving on? But Drake been on friend zone for YEARSs bruh," Kenneth tweeted.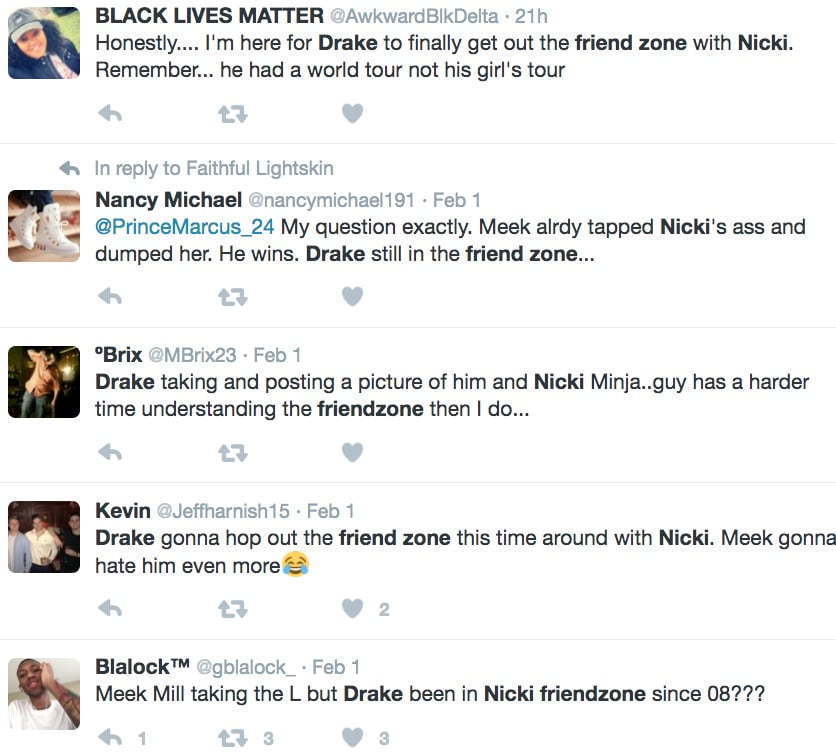 Both Drake and Nicki Minaj are getting ready to drop new albums this year. The 6 God's new LP More Life will arrive this month, while the Trini rapper's project release date is not yet known.
Lil Wayne has also reunited with the duo signaling a return to that old Young Money vibe. Whether or not they will drop some new music together is not yet known but we suspect something is in the pipeline. Their last hit record together was Nicki Minaj PinkPrint single "Truffle Butter" and that track is now two years old. Perhaps Minaj or Weezy will make a surprise appearance on Drake's "Boy Meets World" tour now under way in Europe. The Toronto rapper is performing in London tonight.