Nick Cannon's highly anticipated dancehall movie "King of the Dancehall" made its debut at the Toronto International Film Festival last week.
So far the film has been getting raved reviews among dancehall fans. KOTD also marks Cannon's directorial debut and saw him traveling to Jamaica last year to shoot the film in actual street dance events. The film also features some big name stars including Nick Cannon, Busta Rhymes, Canadian singer Kreesha Turner, Whoopi Goldberg, Lou Gossett Jr., dancehall artist Collie Buddz, and rising Jamaican actress Kimberly Patterson in her first major role.
Speaking with Fader, Nick Cannon opened up about his decision to base the film on Jamaica and dancehall culture.
"I mean, why hasn't this been done before?" the actor said. "That's what I felt as soon as I stepped foot in Jamaica. I couldn't understand how such a rich culture had never been shared with the whole world before, especially when you think about everyone who has borrowed from it: the number one song from Drake today, Justin Bieber's video, all the dance moves mass media falls in love with from Beyonce stem from what's going on in Kingston. And then when you think about the passion that's involved wth Jamaican culture, it's like, they're not sitting around waiting for things to get all pretty: they want it raw and dutty. That should be shared in the way of Dirty Dancing or Saturday Night Fever. It doesn't get any more passionate than Kingston, Jamaica."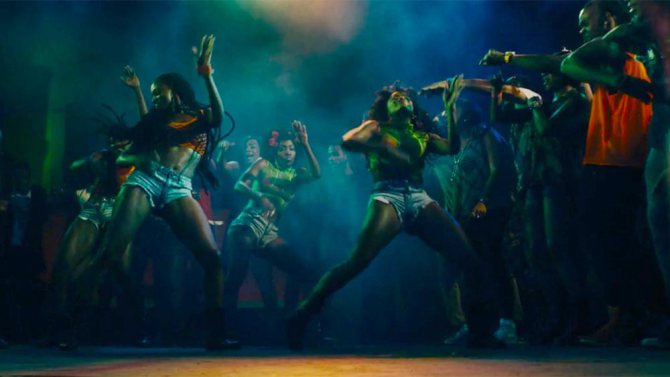 Clearly, its been a while since we've had a movie like this based on Jamaican music culture, but its certainly not the first. Jimmy Cliff's cult classic "The Harder They Come" was perhaps the first and most powerful film based on reggae culture to come out of Jamaica. The 1997 classic "Dancehall Queen" movie was also a huge success.
"King of the Dancehall" also saw cameos from Ky-Mani Marley, Barrington Levy, Beenie Man who narrates part of the film.
KOTD got a 7.6 ratings on IMDB.