Lots of celebrities turned out for Kobe Bryant's last NBA game on Wednesday night including Kanye West, Jay Z, and Kendrick Lamar.
Everyone has been anticipating Bryant's, aka Black Mamba, last game and he went out with a bang scoring 60 points solid making that the second highest points from a single player in one game to beat the Utah Jazz.
Ye, Hov, K-Dot were sitting courtside taking in the action before getting a pic with the NBA legend.
At the God's last game pic.twitter.com/eucluEFOFX

— KANYE WEST (@kanyewest) April 14, 2016
Mamba out!

— Mr. Carter (@S_C_) April 14, 2016
"No pressure. THE GREAT ONE. @kobebryant . Thank you for the journey champ," Kendrick Lamar wrote.
No pressure. THE GREAT ONE. @kobebryant . Thank you for the journey champ.

— Kendrick Lamar (@kendricklamar) April 14, 2016
Kanye West donned a yellow long sleeve shirt with the writing "I Feel Like Kobe." Ye was even spotted sharing a laugh with Kobe.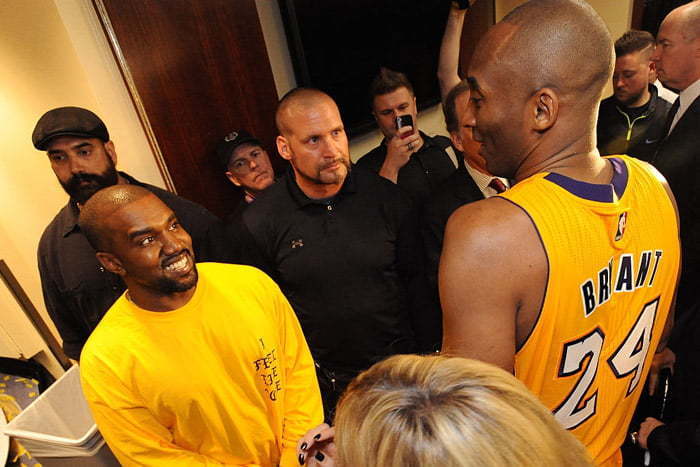 While Ye has been a frequent tweeter these days, Jay Z's last tweet before last night was months ago on his birthday, December 4, 2015.
Other celebrities who were spotted at the game includes The Weeknd, Adam Levine, Jack Nicholson, and David Beckham. Some past big name basketball players were also present including Kobe Bryant's friend and former teammate Lamar Odom and Shaquille O'Neal. Gary Payton and Magic Johnson were also at the send off game at the Staples Center.
Kobe Bryant scores SIXTY POINTS in his final game! https://t.co/DZzMQylMF2

— NBA (@NBA) April 14, 2016
"Honestly, I can't believe this actually happened, to be honest with you," Bryant said. "This is kind of crazy to me, the last game at home. It's hard for me to believe that it happened this way, it really is. I'm still in shock about it."
Jay Z and his collaborator on "B**ch Don't Kill My Vibe (Remix)" Kendrick Lamar also posed for a candid photo courtside at the end of the game.