Kehlani is currently being placed on psychiatric hold and is recovering in an hospital following her attempted suicide Monday night.
The 20-year-old R&B singer is thanking her boyfriend PARTYNEXTDOOR for saving her life during the whole ordeal.
"Thank you for saving my life," she wrote on Instagram along with a photo of PND.
Kehlani has since deleted all her photos from IG and seems to be staying off social media after that heavy backlash and cheating allegation on Monday.
Some fans are calling her attempted suicide as a desperate cry for attention, something that she has vehemently denied.
"Not always crying for attention or help, I got my mama number on speed dial for that sh*t," she wrote on IG while still in her hospital bed. "Is everyone that conditioned to celebrities not being REAL PEOPLE??? I'm f***ing going thru it. Going thru 20 year old drama queen issues and figure since all the trials in my songs that have seemed to help so many others, sharing my truths must be continued. Yes I got thru some crazy a*s sh**. But YES I TELL THE STORY SO THAT HOPEFULLY SOMEONE ELSE WHO NEEDED TO HEAR IT, WOULD. Im tired of being called the "cry for help" cuz never in my life have I EVER asked a single soul to take pity on me no matter WHAT I'm going thru.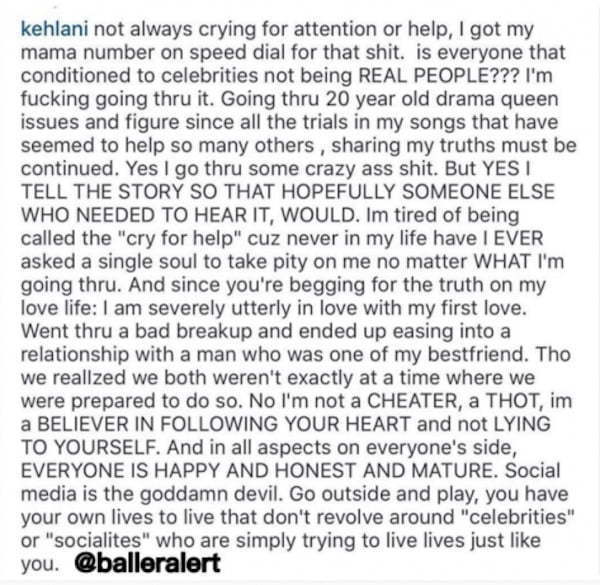 "And since you're begging for the truth of on my love life: I am severely in love with my first love. Went thru a bad breakup and ended up easing into a relationship with a man who was one of my bestfriend. Tho we reallzed we both weren't exactly at a time where we were prepared to do so. No I'm not a CHEATER, a THOT, im a BELIEVER IN FOLLOWING YOUR HEART and not LYING TO YOURSELF. And in all aspects on everyone's side, EVERYONE IS HAPPY AND HONEST AND MATURE. Social media is the goddamn devil. Go outside and play, you have your own lives to live that don't revolve around "celebrities" or "socialites" who are simply trying to live lives like you."