Chris Brown and Karrueche Tran are not getting back together, at least not anytime soon.
Seems Breezy is sending a few disses Karrueche Tran and Future's way on Twitter. Chris Brown ex-girlfriend has been busy promoting her new sweater line With Love. Last week Future posted a photo of himself rocking one of the sweater. Karrueche co-signed by posted a photo of herself that she captioned "wicked."
Karrueche Tran Not Over Chris Brown Says Moving On Is Hard
Seems the "Zero" singer didn't like what was going on.
"When she thirsty for ni**as with lower expectations but swears she don't check her DMs #hoeswithhearts," Brown wrote on his Twitter timeline a short time later.
Did Future slide one in Karrueche's DM?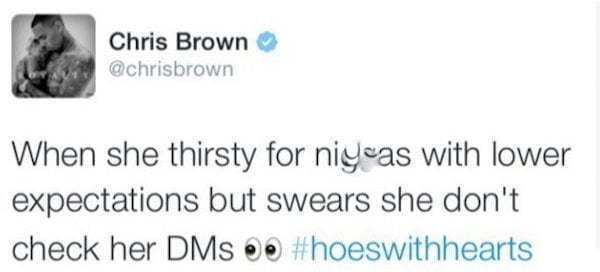 A few other celebrities were spotted wearing the sweaters so this does not mean Karrueche Tran is hooking up with Future, despite rumors of a budding relationship between the two. Neicy Nash Was also spotted in one of the gears.
Perhaps Chris Brown was talking about Drake and Rihanna.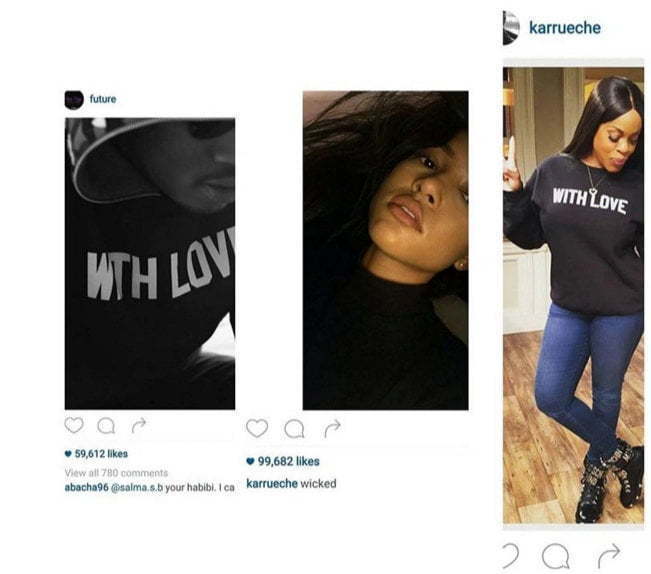 Sources say Brown and Karrueche have not spoken to each other in months, since their running at a restaurant in Los Angeles last year summer.
"Chris has given Karrueche the space and freedom that she asked for to move on with her life, it's just people keep linking them back together, sources told us. "They have not spoken to each other in months. Chris will always love her, but he respect her decision to move on and he is fully focus now on raising his daughter Royalty and his music career."
Karrueche Tran broke up with Brown almost a year ago after she learned about his love child with former video model Nia Guzman.
Despite a few hiccups with his baby mama Nia Guzman, Chris Brown seems to be handling fatherhood quite well. The singer gets 12 days visitation per month to spend with Royalty and sources told us that he makes good use of that time with her.