Chris Brown is spending some quality daddy daughter time with his bundle of joy Royalty.
Sources are telling us that Royalty's vocals will be featured on Chris Brown upcoming album that he also titled Royalty, due in store this fall. Breezy took his daughter to the studio with him yesterday and then took her to the zoo.
Related: Chris Brown Previews New Song From 'Royalty' Album On IG
"Of course you can't have a album title Royalty without the queen being featured on it," sources close to Brown told Urban Islandz. "It was fun having her in the studio and you can tell that she is a star in the making."
Sources also confirmed that Breezy has reached out to his ex-girlfriend Rihanna for a feature on the album. But no word yet on if she accepts his offer.
"He (Chris Brown) and RiRi always make dope music so are all hoping that they will lay down a track together for this project. But let's see if it will happen, regardless the album will be dope and most of it is already finished," sources added.
Breezy has been in the studio almost nonstop these days laying down the tracks for the highly anticipated project. So far he has not given us a release date or a cover art, but he did confirmed that it will hit iTunes sometime this fall.
Chris Brown and Royalty visited the zoo.
Chris Brown also visited the zoo with the adorable toddler. The "Zero" singer posted several photos of himself with his daughter enjoying the wild life on his IG account.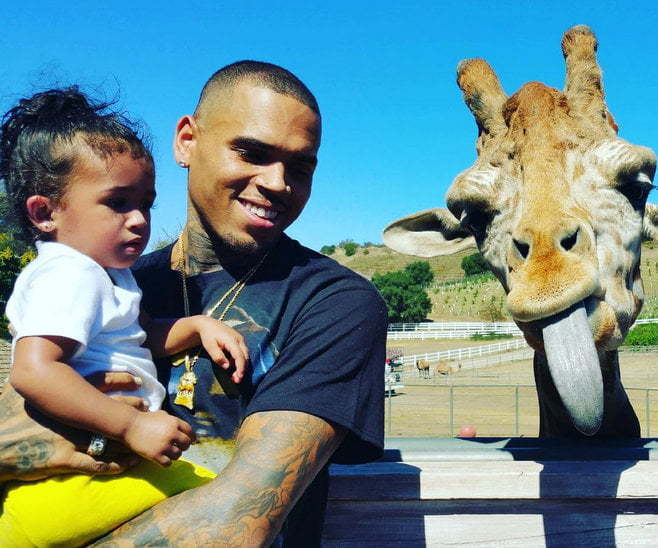 In one photo they took a selfie giraffe while they climb a tree in another pic.
Last month the "Loyal" hitmaker won joint custody of his daughter following a long custody and child support battle with his baby mama Nia Gizman.
Under their new agreement, Brown will have the 1-year-old toddler for 12 days out of every month and will pay Guzman $2,500 per month.
He will also foot the bill for nannies, medical bills and private schools.