Chris Brown ex-girlfriend Karrueche Tran is denying that she is dating Rob Kardashian. Rumors of the two dating started to circulate last week but seems the budding actress has had enough of the chatters.
On Tuesday night Rob posted a photo of Karrueche Tran on his Instagram before deleting it. "I like when she send me pictures," he said.
Seems Chris Brown has not seen this one as yet because we sense a threat coming. Regardless, Karrueche took to IG to shut down the rumors as fast as they could start gaining traction.
"I don't have time for this bs," she wrote. "But you got me f*** talking about my pu*** is circulating the industry. Excuse me. Rob has been my friend since hs you stupid f***."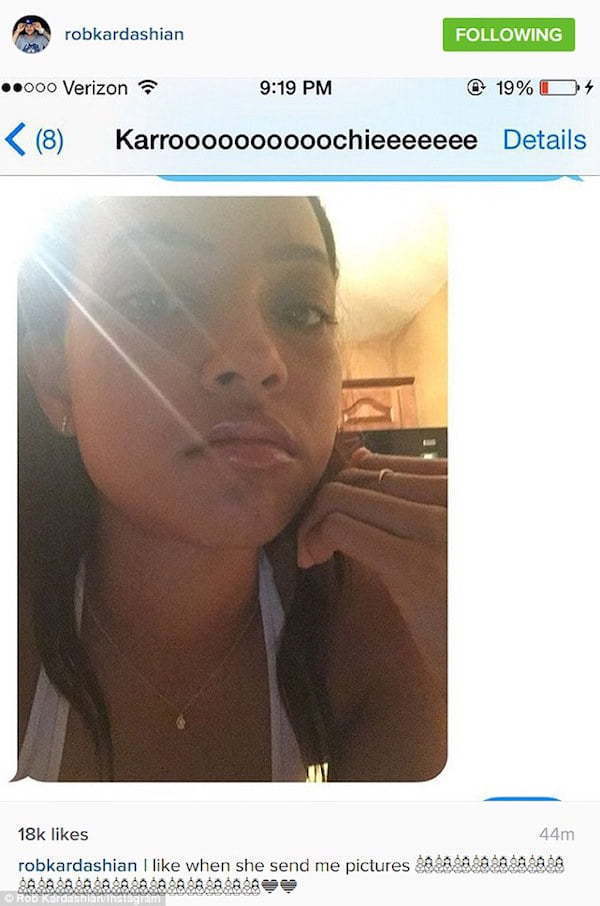 Rob Kardashian also shot down the rumors saying that he and Karrueche have been friends since they were in high school.
"Yall dumb af. I been Friends with Karoooooch since high school. F*** outta here with your negative s***," Rob wrote on IG.
Sources close to Tran are saying that she is still very much single and is focusing on her acting career.
"PSA Karrueche is a single woman so people should done with all these nonsense, she is not dating anyone," an insider said. "Karrueche and Rob have been friends for a very long time, long before she even knew Chris Brown. She is fully focused on her acting career right now."
Despite their split, Brown has been threatening anyone who try to pursue his ex-girlfriend.
In May he threatened Tyson Beckford after the model posted a photo of himself and Karrueche hanging out in Vegas. Last month the "Loyal" singer also went at Marques Houston for leaving a suggestive comment on one of Tran's photos on IG.