Chris Brown is making it clear that he don't have any issues with the gay community despite TMZ reporting that he was booked for a Black Gay Pride Weekend concert in Atlanta and was a no show.
The celebrity gossip blog reported that Brown has settled with promoters of the gig after he did not turn up for the performance.
Breezy immediately took to his Instagram page to dismiss the report while also calling out TMZ owner Harvey Levin.
"Yall gotta stop with this bull****," Brown said. "I was never booked. Yall love to say I'm homophobic and sh** to have something to be mad at. I don't care that you are gay Harvey. I applaud you and a person of your caliber should be finding outlets for young gay men/teens and women to be more open and comfortable about coming out. Some of my friends have came out to me and I love them just the same. It would really be a blessing if u focused on real issues. But all these false stories to bring your site traffic is corny. But find another person to drag through the mud of lies. I know I'm talented but I'm not running for president any time soon so fall back wit all the nonsense."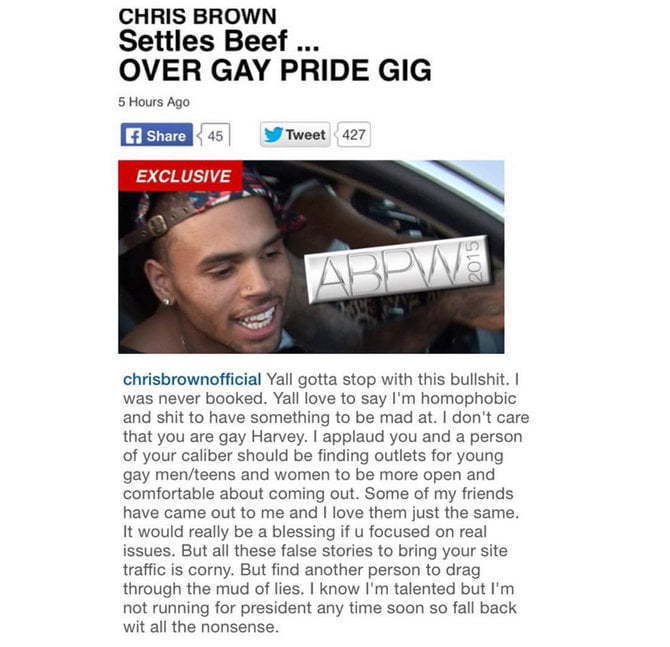 Chris Brown won joint custody of his daughter Royalty in a Houston court last Friday paving the way for a father daughter reunion.
The "Loyal" singer took the toddler on stage with him during his concert at Isleta Amphitheatre in Albuquerque on Saturday night.