Very soon every artist will be very careful about what they write on Twitter so that they won't offend another artist fan base.
Ever so Nicki Minaj, Beyonce, or Rihanna fans go on the attack to take down another artist for shading their idol.
SEE ALSO: Nicki Minaj Tooling Around With Meek Mill To Hurt Safaree
90s female rap icon Missy Elliot came on fire on Wednesday for allegedly shading Nicki MInaj on Twitter.
"I'm A walking testimony! To those who was told they were talented but didn't look the part! be YOU there's many who can relate 2u," Missy wrote on her Twitter timeline before deleting it.
The "Work It" rapper also responded to a few of Nicki Minaj fans who were up in their feelings about her tweet.
"I have artist on my TL who I mentor giving advise that was giving to me when I 1st started as a artist smh my tweets r 2 uplift," Missy tweeted.
"Lets say this one time & time I'm only! I mentor unsigned artist my I don't throw shade at artist be clear," the veteran rapper wrote on her timeline.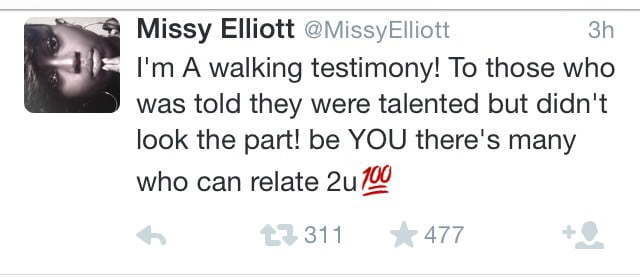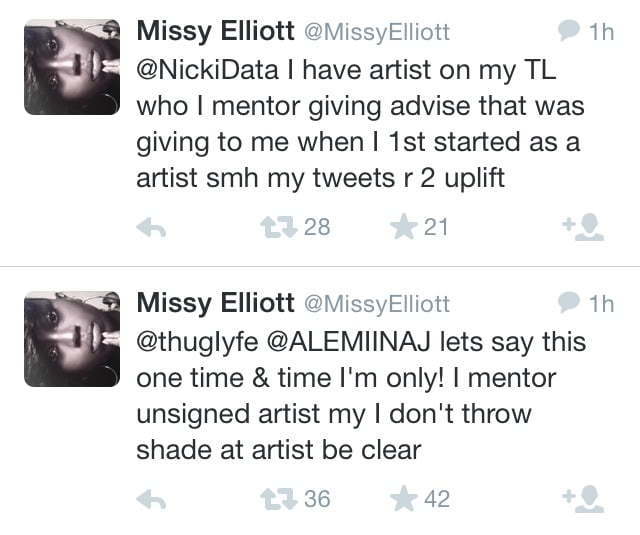 Missy later added these tweets to her TL.

Elliot has since deleted all those tweets. In today's age of social media it's hard for artists to express themselves without being accused of dissing another artist.
Check out some of the tweets from Nicki Minaj fans.
Missy Elliott will never work with Nicki Minaj out of respect for her sister Lil Kim just get over it ok

— Majah_Navy (@Fenndiii) June 17, 2015
Shading Nicki Minaj isn't going to make you any more relevant @MissyElliott you should be ashamed

— SirRatchettness (@SirRatchettness) June 17, 2015
Share your thoughts in comments below.